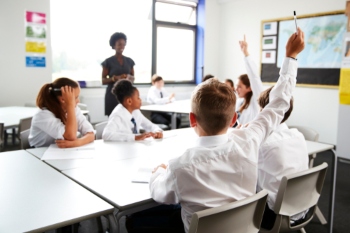 Access to a good education is the basic right of every child. School teaches children how to function and flourish in society. Alongside essential lessons in the national curriculum, it teaches invaluable lessons in diplomacy and debating, you can't underestimate the power of the playground. A good education is vital to maintaining a functioning society, acting as an incubator for the next generation of leaders, thinkers, innovators and industry professionals.
An increasing lack of youth services is making the role schools play in a child's development even more important. Since 2010, it is estimated that there has been a £400m reduction in council funding, which has led to the closure of more than 600 youth centres. Many adults attribute part of their success to youth centres, sports clubs and art programmes. Youth facilities keep children and teenagers occupied, helping them to become rounded and engaged adults.
While local authorities battle against these budget cuts and are forced to make extremely difficult decisions over what to spend money on, our latest research has found that we are not even providing sufficient classroom space to give children classroom sizes that are optimum for learning.
Our School Places Challenge 2019 report reveals that by the academic year 2021/22 England will see more than 385,000 additional pupils enter the primary and secondary school system, filling the equivalent of 12,835 extra classrooms. This is a national problem - Scotland, Wales and Northern Ireland will see an additional 33,179 pupils enter the school system by 2020/21, requiring an extra 1,136 classrooms. This means as a nation we need 640 new schools by 2021/2022.
Faced with an impending boom in pupil numbers and an unfavourable funding model, many local authorities are faced with significant pressures. The last two years has seen our government pre-occupied with Brexit and education has fallen down the political agenda to the detriment of the next generation. Last year, local authority gross spend on schools, education and services for children and young people, fell by £700m compared to 2016/17. However, this must not be mistaken for local authorities disregarding the importance of investment. 'School Expenditure' still accounted for more than two-thirds of expenditure by local authorities on education, children's and young people's services in 2017/18. This demonstrates that while the overall funding pot has shrunk, local authorities are still doing all they can to provide the next generation with facilities that nurture their growth and development.
For Birmingham City Council and Manchester City Council, this strain on funding will be acutely exacerbated in the coming years. Our research revealed that both cities can expect more than 12,000 extra secondary school pupils by 2021/22. Between them, they will need to build the equivalent of 53 new schools over the next two years. This problem is not just reserved to densely populated cities either, London's commuter belt is also experiencing a significant strain. Essex, Kent, Surrey and Hertfordshire all rank within the report's top ten areas to be most affected by the growth of the school-age population.
The challenge we face is working out how we address the shortfall of school places in time. In April, the government revealed plans to grant local authorities more powers to seek vital funding from housing developers in instances where new developments put pressure on school places. Greater collaboration between councils and developers is one of our key recommendations. In recent years, local authorities have made great strides in delivering new primary schools following intense pressure on places.
This focus and momentum now needs to shift to secondary schools. We need developers to provide funding or deliver secondary schools in major urban extensions and developments first, so that an area is prepared to meet increased demand following an influx of families.
The current funding model needs overhauling. A fairer model is needed; one that enables local authorities to work with central government to set budgets and takes into consideration local need.
Our data analysis shows that the Isle of Wight is expected to see pupil growth fall by 1.9%, while the London Borough of Haringey will see a 0.4% decrease. It makes no sense to plough investment into these areas if money is better spent elsewhere. The focus must be on providing school places in the locations that need them. If local authorities could play a greater role in judging and approving free school proposals, they could kick start the drive to ensuring new schools are established where there is the greatest demand.
Time is of the essence, these new schools and new classrooms are needed in the next two years. One solution to giving local authorities cost certainty, value for money and timely delivery is the use of Modern Methods of Construction (MMC). Through modular buildings, we can create engaging and modern spaces for children to learn, while making sure they are built in time.
On average it is 30% faster to produce plans for a modular building in comparison to a traditional build, which means it is possible to reach 'design freeze' earlier. This allows architects to spend more time considering how staff and pupils will use the building day to day. It also avoids overlapping changes during construction, which are often the causes of spiralling costs. As a result, local authorities are able to keep to tight budgets and deliver plans that optimise space and take into consideration each end user.
In addition, modular construction also helps mitigate against the risk of Brexit-induced labour shortages. In early May, the Construction Industry Training Board (CITB) released their latest report which demonstrated that MMC can reduce the number of construction workers required to meet housebuilding targets by 40,000. Relying on a smaller number of workers is a key benefit of modular construction, and its increased adoption should definitely play a role in delivering vital school places.
Many of the young people entering primary education or progressing into secondary school grew up under austerity. You cannot underestimate the impact that closing libraries, cuts to Sure Start and a decline in youth services has on young people. As local authorities have experienced progressive budget cuts, they have had little choice but to cut back on the provision of these services. But education isn't a choice, it is a fundamental right and the next generation deserve the best chance to succeed.
Download the full report, School Places Challenge 2019, from scapegroup.co.uk/research.
Mark Robinson is chief executive of Scape Group