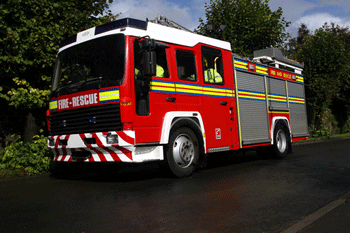 The North Yorkshire Police and Crime Commissioner (PCC) is to take on responsibility for the area's fire service despite opposition from local authorities.
The home secretary has approved a proposal from the PCC for North Yorkshire, Julia Mulligan, to hand responsibility for North Yorkshire Fire and Rescue Service over to her office.
The service is currently overseen by the Fire and Rescue Authority, a body of 16 councillors representing City of York Council and North Yorkshire County Council.
Through the Policing and Crime Act 2017, the Government is trying to drive greater collaboration between emergency services. This includes enabling PCCs to take on governance of fire and rescue services where a local case is made.
PCC Julia Mulligan undertook a local consultation before submitting her proposal and found that North Yorkshire County Council opposed the idea.
The council's executive countered with an alternative proposal they called a 'representation model'. Under this arrangement, the PCC would become the 17th member of the Fire and Rescue Authority.
'The reason we support the representation model is that is it a stepped approach,' North Yorkshire CC leader Carl Les explained last August.
'It maintains the experience and collective wisdom of the elected councillors who represent communities across North Yorkshire. However, it does not preclude further changes should they prove necessary.'
Amber Rudd, the home secretary at the time, commissioned an independent assessment of the PCC's proposal in November 2017.
Home secretary Sajid Javid has approved PCC Mulligan's idea, concluding 'a transfer of governance would be in the interests of economy, efficiency and effectiveness, without having an adverse effect upon public safety.'
Responding to the decision, Cllr Les said: 'We do agree with the principle of more collaboration between the police and fire services. However, we are disappointed that our preference, and that of the City of York Council and six of seven of our district councils, for a representation model did not find favour as we think this is a better and more balanced way of capturing the expertise, knowledge and experience of the councillors who make up the Fire and Rescue Authority.
'We also had some concerns about the capability and capacity of the office of the Police and Crime Commissioner to take on this extra responsibility, especially at a time when demands and pressures on elements of the police force require improvement and close attention.
'However, the Minister has made his decision and we will do all we can to make this new process work.'