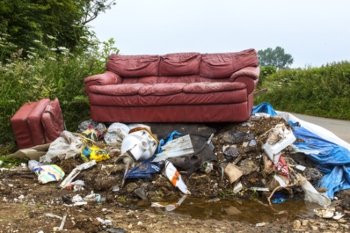 New proposals to tackle fly-tipping and illegal waste exports have been unveiled by the Government today.
One proposal to reform the waste industry is stricter background checks for firms who move or trade waste. This would make it harder for unregistered operators to find work in the sector and make it easier for regulators to take action against rogue operators.
The Government is also considering the introduction of mandatory digital waste tracking to enable regulators to better detect illegal activity and tackle waste crime.
Environment minister, Jo Churchill, said: 'Reforming the licensing system will clamp down on abuse of the system and new mandatory digital waste tracking will greatly improve transparency in the sector and make it easier for householders to check that their waste is being disposed of legally.
'Together, these reforms will stop criminals abusing the waste system and make it easier to prosecute offenders successfully.'
Councils dealt with record levels of fly-tipping last year, dealing with 1.13 million fly-tipping incidents in 2020/21, an increase of 16% from 2019/20.
Jacob Hayler, executive director at the Environmental Services Association (ESA), added: 'This could be a pivotal moment in the fight against waste crime, a scourge which severely undermines confidence and investment at a crucial time for our sector.
'ESA is very supportive of the policy proposals outlined which should help to make life difficult for criminals infiltrating our sector and making a fast buck at the expense of legitimate operators and the environment.'