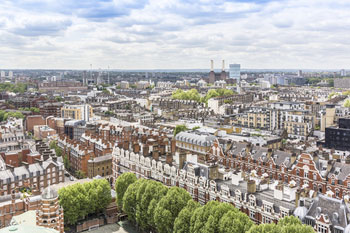 Over 22,000 properties are sitting empty across Greater London, new research has revealed.
A study of unoccupied homes by the insurance company HomeProtect has found that the total number of properties in the capital unoccupied for six months or more rose by 2.8% between 2013 and 2018 to a total of 22,481.
This accounts for 0.63% of all properties in London and, with the average house price in the capital at £477,813, it means up to £10.7bn's worth of homes are empty.
The most vacant dwellings in London are located in Southwark and Croydon, according to HomeProtect. There are 1,766 unoccupied properties in Southwark, while Croydon comes in a close second with 1,521 vacant dwellings.
Barking and Dagenham has the lowest number of unoccupied properties in London, with just 106 sitting empty. Westminster has seen the largest decrease in the number of unoccupied properties, dropping by 394%.
The City of London and Croydon have seen the largest increase in the number of unoccupied properties between 2013 and 2018, both rising by 81%.
Property expert, Emily Evans, explains that the rise of AirBnB has played a large role in the growing number of empty properties in the capital.
'The Government have made it difficult to be a landlord, so it isn't that much of a lucrative market,' she explained.
'Landlords are now selling up or choosing to adopt the "AirBnB" holiday home model, over a traditional residential let. Southwark especially has a lot of part-time homes and AirBnBs. However, further south in Southwark is classed as more of an "up and coming" area, meaning a lot of properties will be being bought and renovated.'