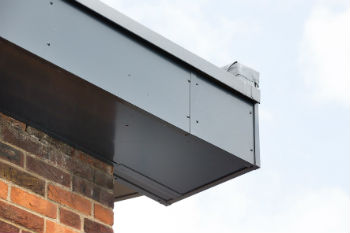 Public buildings of a certain age, typically constructed in the 1950s and 1960s, commonly contain a significant amount of asbestos. At that time asbestos was deemed to be a strong and durable material and the side effects were still relatively unknown.
While it is perfectly safe if undamaged and in-situ, local authorities are facing an increasing problem as buildings inevitably deteriorate and require updating and refurbishment.
One particularly common area for asbestos use is in the roof eaves systems for soffit cladding. How then can this potential hazard be managed safely and cost effectively during refurbishment?
It is well known that asbestos is a carcinogen and causes around 5,000 deaths in the UK each year. It is also common knowledge that asbestos removal can be very expensive, especially when it is integral to the building fabric like in many roofline applications.
Specialist contractors and sometimes even site closures drive costs up but alternative solutions can appear scarce. However, other options are available that will mitigate asbestos eaves risks without the need for removal.
The problem with so many public flat-roofed buildings built in the 1950s and 1960s is that they were constructed using asbestos cement roof decking. These continuous sheets then formed both the internal ceiling finish and the external soffits – meaning removal would now come hand-in-hand with a complete roof reconstruction. Nonetheless, granted the sheets are still in good condition, councils can look to manage the eaves risks by using a long life aluminium system to encapsulate the asbestos.
The best and safest option is to leave the asbestos material in-situ and over-clad without disturbing it. As long as asbestos is left undisturbed it poses no danger.
Durable eaves systems provide an ideal solution to this problem, however the material's attributes are crucial to the application. The key is that the new eaves system is strong and rigid enough to span the depth of the soffit required without the need to drill and fix into the existing asbestos system. In this regard, composite aluminium offers a unique combination of rigidity and lightweight construction. Even though it is only 4mm thick, an aluminium composite soffit can span large expanses without additional fixing requirements.
Indeed, in a recent project for East Riding of Yorkshire Council, Marley Alutec was able to design a aluminium eaves system that covered soffits spanning in excess of two metres.
High quality composite aluminium systems are also well suited for asbestos risk management because of their extremely long life expectancy and minimal maintenance requirements
Kevin Wallis is category manager – eaves solutions at Marley Alutec