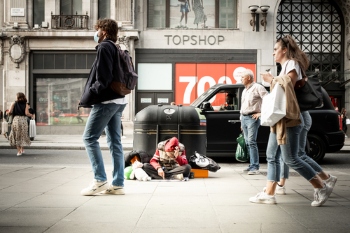 The Government's levelling up agenda should focus more on affluent local authority areas in London that have low levels of wellbeing, think tank says.
New analysis by the think tank Social Market Foundation (SMF) has found that on average, places that are richer tend to be more miserable, especially when it comes to London boroughs. For example, Islington, Camden, Southwark and Hackney are in the 10 most miserable local authorities, despite being among the economically most successful.
In a list of 377 council areas, Wandsworth ranks 44th from bottom for happiness. Westminster was 66th on the wellbeing list. By contrast, areas such as West Devon and Fermanagh & Omagh score highly on wellbeing, despite low rankings for economic prosperity.
SMF argues that the 'rich but miserable' voters should be included more in the Government's levelling up agenda.
In yesterday's Queen's Speech, the Government confirmed its plans to bring forward a Levelling up and Regeneration Bill, that involves a legal commitment to provide annual updates on its mission to ensure that 'By 2030, well-being will have improved in every area of the UK, with the gap between top performing and other areas closing.'
However, SMF points out that much of the Government's rhetoric and strategy around levelling up has tended to focus on 'overlooked and undervalued' places rather than the capital where there are areas with low wellbeing.
'The Government has a London problem – not just in terms of its political strategy, but also in terms of its mission to reduce inequalities in wellbeing,' said SMF chief economist Aveek Bhattacharya.
'Islington and Hackney are not the sort of places that immediately spring to mind when we think of levelling up, but in terms of happiness, anxiety and life satisfaction, they are behind the rest of the country.
'We need to put similar effort into understanding and addressing the problems people face in these places as we do the economic challenges of "left behind" areas if those gaps are to be closed.
'Having promised to close gaps in wellbeing as part of the Levelling Up agenda, ministers must accept that their promises mean paying more attention to raising the happiness levels of city dwellers who might be described as rich but miserable. Levelling up means many things, including making sad Londoners happier.'