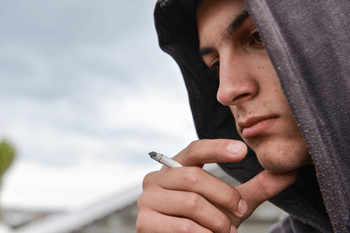 It costs local councils £6.4bn a year to deal with damaging social problems affecting children and their families, new research has revealed.
Analysis by the Early Intervention Foundation (EIF) found addressing problems such as domestic violence, neglect, unemployment and youth crime costs the nation £17bn a year in England and Wales.
The cost of dealing with domestic violence and abuse increased by 6% in the last year, up from £4bn to £5.2bn.
However, expenditure on benefits for 18 to 24-year-olds has fallen from £3.7bn to £2.6bn due to the reduction in the number of young people not in education, employment or training.
Carey Oppenheim, chief executive of EIF, said: The increase in recorded cases of domestic violence and abuse, and the costs associated with that, are especially worrying given everything we know about the impact of family violence and conflict upon children. We know effective early help has the potential to improve outcomes and reduce the need for late intervention.
'We hope this analysis will stimulate renewed discussions, locally and nationally, about how to better support vulnerable children and families.'
The EIF said the figures only include the costs of acute services and benefits and do not include the longer-term or wider social costs.
Responding to the analysis, the Local Government Association (LGA) said the increase in demand for child protection services was putting a 'considerable' strain on services.
Cllr Richard Watts, chair of the LGA's Children and Young People Board, said: 'Funding for early intervention has also fallen by 56% in the last five years.
'There needs to be an urgent reform of how funding is allocated across the range of early intervention services to encourage joint working, savings and avoid duplication. This will allow councils to further build support around the needs of families and shift the emphasis from crisis spending towards longer term prevention services.'