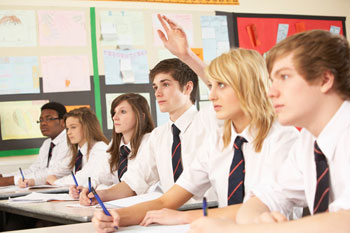 The Government's seemingly casual approach to the data showing how much we spend as a nation on education may have come as a surprise to many.
The head teachers demonstrating outside the House of Commons were taken aback when they heard schools minister Nick Gibb defiantly proclaim that the UK was third from top in the international league tables, spending more per pupil than Germany, Australia and Japan.
The outraged heads said Mr Gibb's use of the 'erroneous' figure was shocking and disturbing and accused him of trying to hide savage education cuts.
It quickly emerged that the OECD data on which the claim was based – said to be three years old – included not only state spending on schools but also billions of pounds spent on private school fees and tuition loans paid to individual students.
That, critics pointed out, would not usually be included in what most people would understand by 'education spending'. They would assume it meant spending by the Government.
It seems at best an unusual use of the data, and the bodies responsible for keeping a watch on the use of official figures, the UK Statistics Authority and the Office for Statistics Regulation, have launched an investigation into Mr Gibbs' statement.
A glance at the latest OECD information, published this year, shows how debatable a claim it was.
One of the tables contained in Education at a Glance 2018, OECD Indicators, indeed shows the UK coming third in the international table on spending on primary-to-tertiary education as a percentage of GDP. But that, as Mr Gibb must have known, includes all spending including from public, private and international sources.
Other tables presented earlier in the report show a different picture. One, for example, shows a breakdown of public and private spending on the primary, secondary and post-secondary non-tertiary sectors as a percentage of GDP. This puts the UK in sixth place for spending from public sources, behind Norway in first place, followed by Iceland, Belgium, Israel and Finland.
A chart showing the cumulative spending per student on educational institutions between the age of six and 15 puts the UK in eighth place. Curiously, Luxembourg is way out front, apparently spending nearly twice as much as the UK. The US, not noted for its 'big state' approach, seemingly puts more into education than the UK and several other European nations including the Scandinavian countries.
In terms of state spending on primary-to-tertiary education, the UK makes it only to tenth place, beaten by several European countries and New Zealand while, focusing on the tertiary field alone, the UK emerges worst, coming second from the bottom out of 28 countries, spending less than a half of the OECD average and about a third of the amount spent by the Scandinavians.
All in all, it is difficult to draw firm conclusions from the information in the OECD report. It tells us that the share of national wealth devoted to educational institutions varies between 6% in countries including the UK and US, dropping to 3%-4% in other nations including the Czech Republic, Greece, Hungary and the Russian Federation.
Many factors, it reminds us, influence the relative position of countries on this measure including the number of students enrolled, the duration of their studies, and the 'effective allocation of funds'.
What the OECD report does succeed in demonstrating is that comparing spending between countries in an area as complex as education is extremely difficult, mainly because of the problem of comparing like with like. As it says: 'Methods of resource allocation across the different levels of education vary widely and are largely a reflection of the mode of educational provision.'
One thing is clear: Mr Gibb's claim that the UK is third in the world for spending on education, while factually correct according to some sets of figures, is arguable. It appears to fly in the face of reality when the highly-respected Institute of Fiscal Studies says there has been an 8% drop in per pupil funding in real terms since 2010.
We will know better whether Mr Gibb was justified in what he said, guilty of a simple slip-up or deliberately attempting to mislead – 'fake news' perhaps – when the statistics watchdogs issue their report.
Meanwhile, education campaigners are probably already well aware that international comparisons are a bit of a minefield.
As, hopefully, following a chorus of angry reactions to his claim and an official investigation, Mr Gibb now also realises.