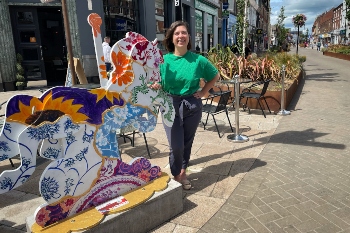 With nearly 50 stores a day closing on High Streets across the UK in the last year the mix of rising interest rates, the cost of living crisis and recovering from a national pandemic has left bustling town centres quiet and shops struggling to survive.
The British Retail Consortium reports retail footfall in the UK is continuing to decline - down 15.4% on pre-pandemic figures.
The Government's latest Levelling Up White Paper calls on towns to embrace the arts and local cultural assets as a way of encouraging events and interaction in public spaces.
Towns need to be seen as more than just shopping areas
To do this we need to think differently. Towns need to be viewed as multi-functional centres; spaces where not just monetary transactions take place but social and experiential transactions happen as well. East Staffordshire Borough Council are aiming to encourage residents and visitors to our town centres by opening up our public space for outdoor events, live music and art installations for increased social interaction.
In the past 12 months, with support from the Welcome Back Fund and as part of the Borough's COVID-Recovery, we have worked with partners to bring a pop-up theatre to a development site just off Burton-upon-Trent High Street, commissioned unique artworks to appear on empty shop windows in our town centres and developed our second art sculpture trail across the town.
According to research carried out for Arts Council England, half of adults (50%) would like to see more cultural experiences on their high streets and an expanded cultural footprint can help high streets appeal to younger and more diverse patrons.
Connecting visitors to key locations
We are working with local arts organisation Making Trails to deliver their second art sculpture trail in Burton-upon-Trent, the first of which in 2020 brought at least £40,000 of extra spend to the town and thousands of new visitors despite the pandemic.
Trails like this create 3D art sculptures which are set up in key footfall areas. By creating a free event it gives visitors a reason to explore their local town while also cleverly directing visitors to places of interest.
One of the many benefits of the trail is that it enables us to provide visitors with a direct link between the arts providing a positive experience and driving footfall to the towns wider retail offer. The route is crafted to have maximum impact on footfall by enticing visitors to weave through public spaces and explore the surrounding area whilst also providing connections with local businesses through their sponsorship of the sculptures.
More than 10,000 additional visitors attended in its first year and this year in the first few weeks we have already attracted an extra 12,000 visitors. If we are to change the downturn in footfall then creating reasons for visitors to come back is the only option.
Creating reasons to return
Long gone are the days that High Streets are simply shopping areas as people's shopping habits continue to change. In the last four years there has been a drastic increase in convenience online buying replacing the traditional shop. In 2016 16% of all retail sales were online, by the end of 2020 that figure had nearly doubled to 30%.
Other influences such as price, convenience and time constraints are affecting the ability of town centres to solely rely on their shopping offer to attract footfall.
More innovative and entertaining ways are needed to spark initial interest and entice and encourage visitors to explore. Cultural activities provide in-person experiences particularly when that is a 3D sculpture or live music or theatre. People, it could be argued, have to be there to experience it fully; this could be the reason that they provide such high footfall and one of the solutions for our town centres.
In Burton upon Trent, The Big Burton Carousel sculpture trail, encourages visitors to walk in between 30 art installations to drive footfall around the town. The locations weave from one side of the town to the next allowing visitors to take in as much or as little of the trail as they want, allowing for multiple visits as well as offering a unique talking point.
Encouraging community spirit
If it is the location of the trails or cultural activity that encourages footfall to circulate, it is the art itself which is the hook to entice visitors, whether plaques, murals, live performance or 3D designs.
Art should speak to the community and be relevant and uniquely connected to the towns it serves. When developing outdoor interventions in East Staffordshire we aim to create a sense of community and civic pride through; working with local and regional artists as much as possible, creating and connecting our residents and visitors directly to the town; either by celebrating its heritage and its future or by animating unexpected or 'forgotten' corners of our High Streets.
Get all of these three things - entertainment, connectivity and community spirit - and then we will start to see footfall return to our struggling High Streets.
The traditional High Street is changing, and it is important that we embrace these changes by celebrating the role art has in reinventing High Streets in a way that creates social spaces people want to explore and interact with.
Chloe Brown, Brewhouse Arts Centre Manager at East Staffordshire Borough Council