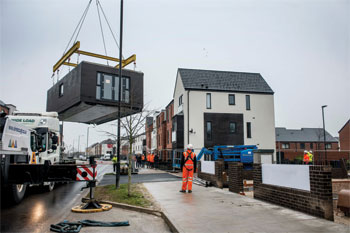 For more than 35 years there has been a structural shortfall in the construction of new homes. On average, the private sector only delivers around half of the 300,000 new homes we need each year in England and the private sector has not built more than 200,000 homes a year for 50 years.
At their peak in 1953, local authorities in Britain built almost a quarter of a million new homes (245,160) in a single year. Fast forward to 2004 and the number of new homes built by councils had fallen by more than 99% to just 130 homes.
There is a good reason for this, spending restrictions introduced at the same time as Right to Buy, made it impossible for local authorities to build again in large numbers.
The on-going housing supply and affordability crisis has seen councils come under increasing pressure from Government to speed up delivery of new housing and support more private sector led development.
However, many local authorities are frustrated with the pace, cost, style and type of housing mix associated with private sector development, which sees councils ceding control, land and income streams to developers.
As a consequence, many entrepreneurial councils have been exploring the options around direct delivery of housing on their own land (for both new private affordable rent and social rent).
While there is a natural focus on social rent, between 2006-07 and 2016-17, the number of households with dependent children in the private rented sector increased by about almost one million (966,000). However, almost nine-tenths (86%) of the pipeline in Britain's nascent Private Rented Sector (PRS) market is for flats and apartments.
As a result of this and conversations with our 19 local authority partners we set up LetLife in order to create new homes for families who do not qualify for social rent.
Building new homes for private affordable rent helps local authorities to create a better financial return and play a greater role in place-making to create attractive, mixed tenure neighbourhoods where residents want to live, work and spend their leisure time in. A huge plus for councils is that these homes cannot be sold at a discount under Right to Buy.
Research conducted last year has shown that 49 local authorities have set up 58 new Local Housing Companies (LHCs) including Liverpool City Council's Foundations, Bracewell Homes in Harrogate and Oxford City Housing Ltd. Bringing local authorities back to new house construction through LHCs and other methods is going to be key to solving Britain's housing crisis.
Building new homes to rent is also going to be an important way for local authorities to improve their revenue streams as they search for new forms of income to make up for a 38% reduction in Government grant since 2010.
What sort of home should councils build?
Britain faces an industrial size problem with its supply of new homes, meaning we need to build an additional 100,000 new homes a year in order to meet demand.
Industrial scale problems need manufacturing solutions not the batch production model Britain's house-building sector currently offers.
Manchester City Council's director of housing and residential growth, Jon Sawyer, said the city wants to lead on modular while the Greater Manchester Combined Authority has pledged to ensure that all new buildings erected in the city region will be 'net-zero' carbon by 2028.
In January this year Birmingham Municipal Housing Trust (BMHT), Birmingham City Council's house-building arm, received planning permission to install its first modular home. Modular homes lend themselves better to larger orders for local authorities looking to build at scale.
Jon Sawyer has said he aims to be technology 'agnostic' when it comes to delivering modular and he's right to be as different systems can have advantages in different situations and on different sites.
Things to consider when deciding which type of homes to commission:
• Space on site: volumetric modular homes, like those provided by NetZero Buildings, tend to work better on tight sites where the space between homes is at a premium. This is because volumetric homes can be craned as almost the finished product requiring little space for construction around them.
• Location and access to the site: Sites with limited access tend to favour panellised homes as these can be delivered flat pack onto smaller trucks although volumetric homes can still be used if people think through access issues creatively.
• Tenure of homes: Many mortgage providers now offer products for modular homes so precision-made homes in a factory can now be used by councils for homes for sale if they want to achieve a capital receipt in addition to on-going revenue streams from rented homes.
Adam Cunnington is managing director of Public Sector Plc