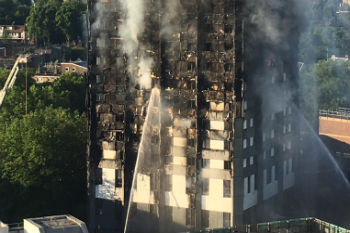 Kensington and Chelsea RLBC has asked the Government to water down its oversight at the council following the Grenfell Tower fire in June.
The recommendation was made in a report by the Grenfell Recovery Taskforce on its first nine weeks at the council.
The taskforce was appointed by the communities secretary Sajid Javid in July to oversee recovery work after the fire at the Grenfell Tower earlier this year.
The report acknowledged the importance of oversight, but said that Mr Javid's weekly meetings with the council is interfering with its delivery of services.
It said: 'Central government oversight was and remains necessary. However, the frequency and intensity is having an impact on the ability of RBKC to deliver on the ground.
'We suggest the weekly ministerial recovery groups, chaired by the communities secretary, should be reduced in frequency.
'The council has suggested to us that the current level of oversight is a distraction from delivery.'
Following on from the report, Mr Javid has ruled out intervention at the council in his speech to the Commons yesterday.
However, the taskforce has warned the council that its needs to do more work to develop a plan to manage its housing stock now that its contract with the tenant management organisation (TMO) has been terminated.
It does not believe the council will be any better than the TMO as a landlord, and advised the council to conduct a full appraisal of its housing stock.
The report added: 'The haste in making the decision without a detailed plan has been exposed at the recent annual general meeting where the recommendation to bring the TMO to a close was not carried.
'There may be a tendency to assume that the council can take over where the TMO leaves. If this is the case then the Taskforce believes this to be flawed and a wider range of options need to be considered.'
The new chief executive Barry Quirk and new leader Elizabeth Campbell were praised by the taskforce for the work they have done so far.