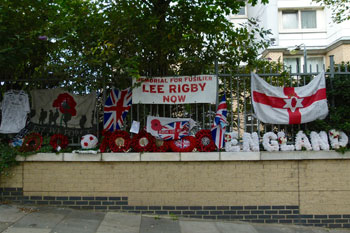 The leader of Greenwich Council has defended the authority's decision to remove an unofficial memorial to the murdered soldier Lee Rigby in the face of attacks from far-right extremists.
Cllr Denise Hyland, the leader of the Royal Borough of Greenwich, said the shrine to Fusilier Rigby at the spot where he was murdered by Islamist extremists in 2013 had become a 'free-for-all'.
Describing the murder as one of the 'darkest days' in the history of the borough, Cllr Hyland said the official memorial at St George's Garrison Church was a 'fitting spot for people to show their respect.'
St George's Garrison Church was the spot chosen by Fusilier Rigby's family and colleague's.
Cllr Hyland, whose speech was interrupted when right-wing extremists stormed the town hall, said the issue of the unofficial memorial on Wellington Street was being exploited for political purposes.
She said they were 'looking to rake up what happened for cynical political point-scoring.'
The council leader went on to berate such extremists for the threats that have been levelled against the caretaker who was tasked with clearing the Wellington Street site.
'Least of all will I tolerate the disgusting behaviour of a tiny and un-British minority, who have threatened and endangered the lives of my staff and councillors,' said Cllr Hyland.
'This is what has happened to the caretaker who was one of a team who cleared the Wellington Street site. Footage of his face posted online. Details of his children and his home address shared. Threats made to burn his home or even to kill him.
'Public safety and the rule of law itself are under threat.
'Caretakers and council workers roll up their sleeves and give their all for our area every day - just as our armed forces do each day for this great country.
'Those who threaten them, while they are going about their work as Fusilier Rigby was, have more in common with the monsters responsible for his murder than they do with the decent and right-thinking British majority.'
Cllr Hyland said the council would continue to think of ways to make public shows of respect for Fusilier Rigby easier.
'But in the mean time I urge everyone to focus on what Fusilier Rigby stood for, and to stand up to those who seek to make his death a source of division,' she concluded.