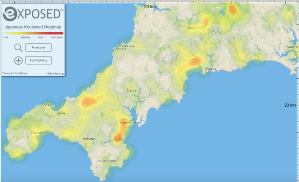 A Japanese knotweed tracking tool that provides an interactive online heatmap of sightings could assist Local Authorities in their battle against the UK's most invasive plant, which costs an estimated £166m to treat in the UK each year.
Launched this year by Environet UK, Exposed: The Japanese Knotweed Heatmap is designed to build a picture of the Japanese knotweed problem and is populated with thousands of infestations, with hotspots clearly visible in yellow or red.
Exposed will assist LAs in their efforts to protect council-owned property and land that may be affected by Japanese knotweed, enabling them to act earlier to treat it before it becomes well established and more challenging and expensive to tackle.
Environet MD Nic Seal said: "By adding Exposed to their armory councils can build awareness of Japanese knotweed in their local area and encourage people to be proactive in spotting and stopping the spread of the plant, potentially savings hundreds of thousands of pounds each year."
Local Authorities are invited to host the free heatmap on their websites. Please contact Environet UK on 01932 868 700 or visit www.environetuk.com