Cities around the world face a range of challenges in meeting the needs of growing urban populations, climate change and sustainability. Options are complex and interact across a range of dimensions such as transport, economic development, and the environment.
A key part of delivering this agenda, as evidenced by policy work from organizations such as the International Association of Public Transport (UITP) and the International Transport Forum (ITF), is the need for better and greener transport systems. In addition to improvements in existing public transport systems, we have been witnessing the rise of new mobility services, such as car clubs and numerous micro-mobility services.
However, these new mobility services have often failed to integrate transparently into cities' existing transportation landscape. This is preventing these micro-mobility systems from delivering their full potential and becoming a core and reliable part of the overall suite of transport options in a city and delivering on their ability to support the sustainable transport agenda.
Qualitative mobility data is critical for cities to be able to fulfil essential roles such as:
• managing enforcement of transport regulations in real time;
• identifying and enabling timely intervention regarding incidents on the transport networks;
• providing real time traveller advice and nudging transport choices;
• measuring the effectiveness of the current transport system's operations and for developing long term transport models and forecasts; and
• enabling allocation of penalties or other charges to operators as agreed within the city.
These datasets are already being captured by cities around the world, such as via the use of on-street camera systems for traffic control or sensors for congestion charging. Cities are using APIs and open data to power in-house and third party travel planning applications.
For instance, comprehensive data has been used to provide evidence of the impact of ride-hailing on traffic conditions in New York City over the last few years. The emerging micro-mobility market should also be data-led to embed itself in the overall transport system of cities, improve its operations, meet licensing requirements and interact with other transport modes. This will provide an evidence-led approach regarding the impact and role of micro-mobility services.
To enable a robust and stable working relationship between local authorities and micro-mobility providers it is recommended that a general licence agreement is developed between the parties and this is consistent across operators.
Mobility data includes information such as real-time GPS coordinates, dates and hours of individual trips along with unique vehicle identifiers. Such data initially rests with mobility operators, who control their own fleets of vehicles. Cities need to access this data to fulfil their mobility goals.
Such agreements are a mobility providers' binding commitment that they will continue sharing their mobility data with the city (and all necessary third parties) as long as they operate locally, so that the city may reuse such data for its own purposes. Therefore, a standardised mobility data license agreement should be an essential non-negotiable prerequisite where a city intends to procure or authorize mobility services.
To enable the city authority to directly, or via a contracted partner, perform management and planning activities the license agreement needs to include:
• vehicle location data and status - enabling identification of distinct vehicles; and
• real time data provision.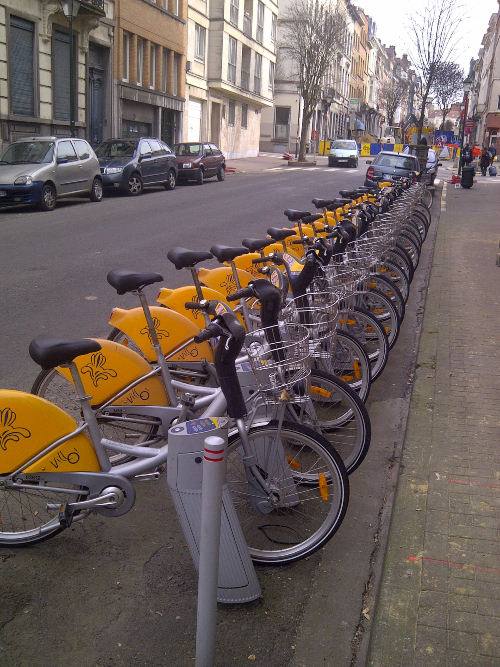 The definition of "real time data" varies. Notably, it will depend on the existing standards applied to other transport modes in the city, the availability of funding to develop and support the data management platforms, and the current systems of the various operators. However, if micro-mobility is to be a core part of the overall transport network in the city, it is likely that location and status data of vehicles will need to be no more than a few minutes out of date.
Within a data agreement the type of data standards that are to be used should be carefully considered. A city may choose not to impose a single standard, but the license agreement should guarantee the outcomes of well managed and efficient micro-mobility services.
Two data formats are typically used in the sharing of mobility data: MDS and GBFS, both delivered through an API (Application Programming Interface).
GBFS (General Bikeshare Feed Specification) is a global open data standard designed by NABSA (North American Bikeshare Association) and originally designed for docked bikes and extended to dockless bikes. Released in 2015, it is now adopted by over 230 bike-sharing systems.
MDS (Mobility Data Specification) was released in September 2018 by the Los Angeles Department of Transportation. It is now governed by the Open Mobility Foundation (OMF). MDS is delivered through a standardised API on the operators' side (Provider API) and on the agencies' side (Agency API).
GBFS, while specific to micro-mobility, does not provide the precise status of a "vehicle", provide historic data feeds on trips and the vehicle status, or is designed for operations control and regulation, amongst other concerns.
The MDS format is designed for regulators and their management of free-floating mobility services and captures such issues as historic and real time data and following user cases for control and enforcement.
The MDS format is the most appropriate, whether for better mobility management, infrastructure planning, or regulation enforcement by cities as well as government agencies.
Although MDS does not provide directly identifying data, GPS and location data is still considered personal data in regards to GDPR. Thus, storage and processing of MDS data should follow specific privacy protection and data security principles.
A micro-mobility management system will create a rich and useful set of data. Robust management of this dataset and data practice standards require consideration of how this dataset will be used over time.
At a basic level, aggregated data from the micro-mobility system will need to be combined with other datasets such as public transport usage data or city infrastructure data in order to develop geospatial insights. This should be a seamless process, offering a mix of typical data formats, and be supported by inherent data protocols that only allow anonymized data, with minimum levels of aggregation, to be exported. Procedures for data retention and management in line with good GPDR data practice regarding data retention and management should be considered.
It's inevitable that, as well as using the data from micro-mobility systems for management and planning, some city authorities may wish to offer some data to their local population. This already occurs in most other forms of public and road transport.
These open data policies have led to a flourishing local market in the re-use of public data while still protecting individual privacy. Data released via a micro-mobility management system will need to be carefully anonymized, aggregated, and even perhaps time-delayed in order to protect a viable and commercial model for the local operators.
Reports such as "The Shared-use City: Managing the Curb" from the International Transport Forum or SAE International's work on Mobility Data-Sharing Principles provide additional evidence of the trends outlined in this article.
Cities are struggling to understand the need and implications of the various data standards for micro-mobility solutions and have informed discussions with the operators. While operators want to maintain their business privacy and competitive position, the cities need to have clear advice about the implications of the policy decisions that they may make in these areas. Both parties recognise that an ongoing set of robust data will be required to enforce the regime agreed with the operators as well as for tactical and longer term planning needs.
For cities to make best use of the potential for micro-mobility services they are recognising that a service dashboard will be essential and that this will need to be in real-time or near real-time. Only, then can these services be considered in relation to the other multi-modal transport options available in the city and can these services work together during planned or unplanned disruptions.
As an emerging thought leader in the area of mobility management, Vianova works with global cities that are eager to promote new transport modes, enforce reasonable and fair rules of deployment, as well as better integrate micro-mobility into cities' wider public transport system and meet the broader needs for efficient and sustainable mobility.
Giles Bailey is head of policy & partnerships at Vianova