Digital transformation is a top priority for local authority managers and while most have a strategy in place to deliver it, lack of both skills and investment remain key barriers to implementation, according to a survey by The MJ and BT.
For the majority of respondents, there is a mismatch between what managers saw as digital priorities and how far they had progressed with implementing it themselves; while 32% saw the cloud as a priority only 12% said they were fully using it. Similarly 39% saw data sharing as important but only 8% admitted to having started to implement it in their own organisation. The chief executive remains a key figure in leading digital transformation strategies with 56% of the poll naming the chief as main driver of change. Interestingly, less than half the respondents cited the CIO or IT Department in this capacity.
Digital transformation is seen as critical to improving services and delivering significant cost savings
83% of respondents regarded digital transformation as among their top five high priorities within their organisation, of which 58% saw it as within their top three. Surprisingly 9% did not actually see it as a strategic priority at all.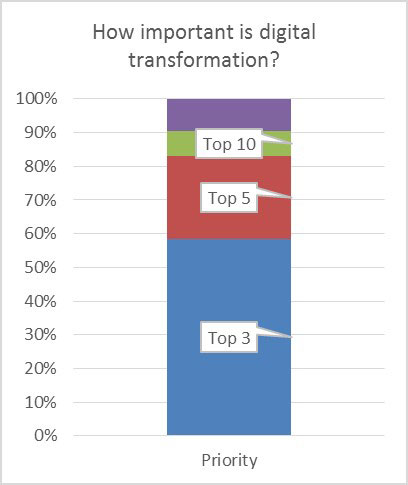 When asked if they had a digital transformation strategy in place 56% said they did, 13% replied that they did not and 30% said it was embedded in individual projects.
The main goals for digital transformation were seen as 'improving services' and "cost savings". Less cited were 'collaborating across organisations to deliver regional transformation" and "generating revenues" to invest in other areas.
Of those who cited cost savings as a key outcome, 45% of respondents expected to achieve savings of at least 10% on total budgets for the areas impacted, with 13.7% of respondents anticipating savings in excess of 20%
Digital transformation is expected to make an impact across a wide range of back office and frontline services.
Over two thirds of respondents named back office services such as finance, HR and ICT as being most affected by digital transformation. Next named by 61% were revenues and benefits, then 52% cited health and social care.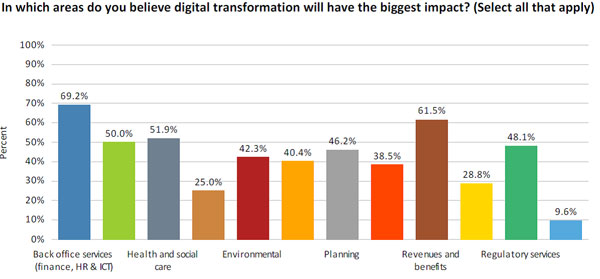 Mobile & remote working technologies are seen as most important to delivering digital transformation – with full deployment in some organisations
Mobile and remote working were the technologies named by respondents as most important to achieving the desired outcomes from digital transformation, followed by data sharing, security and identity management, the cloud, multi-channel contact centres and big data. The internet of things and artificial intelligence were also named, though lower down the list.
But implementation of other critical technologies such as cloud-based infrastructures, security and data sharing is less advanced.
But the difference between what technology councils regard as important and whether they have actually rolled it out is striking, especially for big data and the cloud. Over half the respondents (56%) regarded mobile and remote working as important and 29% have fully deployed it. Similarly while 39% saw security and identity management as important, 19% have actually fully deployed it. Of the respondents, 32% regarded cloud-based infrastructure as a top priority though only 12% have deployed it.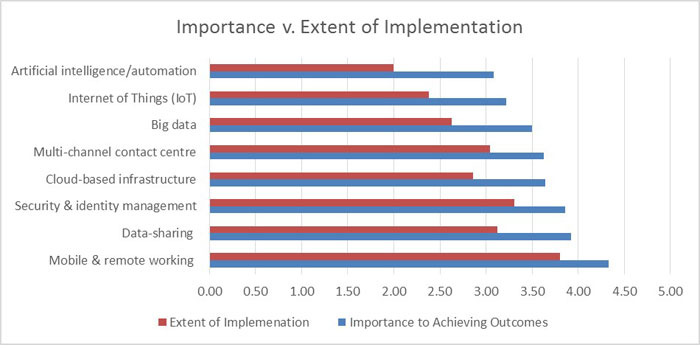 Lack of in-house skills is the main barrier to achieving digital transformation goals
Lack of money to invest, lack of in-house skills, cultural resistance and concern about security were all named as key barriers.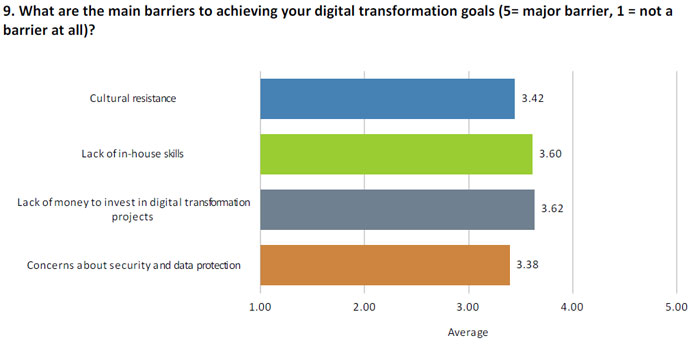 Digital transformation is being driven from the top in most organisations
Respondents were asked to name any of the following drivers of digital transformation, the chief executive, chief digital officer, head of IT or managers. Interestingly 56% of the poll named the chief executive and the project manager as one of the drivers of their council's digital transformation programme. Only 21% named the chief digital officer as the driver although 44% named the chief information officer and IT department. Just over 11% named other job titles such as heads of HR or customer services, finance and social services.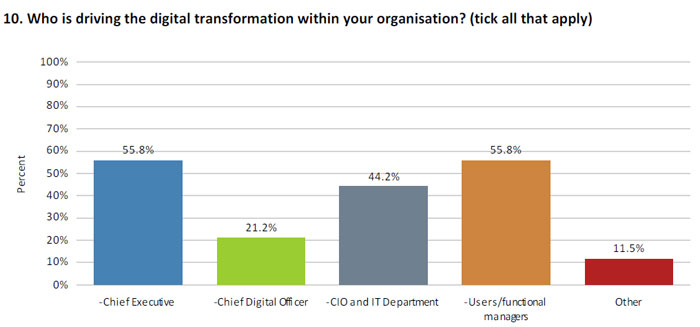 Survey comments:
How would you define digital transformation?
Using ICT technology to change the way services are delivered
Moving away from manual, paper or human interaction towards a wholly digital approach
Making services more efficient through adoption of new ways of working enabled by technology
Putting services online and making people 'self-serve'
Do you have further observations on the digital agenda?
Lack of fast broadband in rural areas *Suppliers need to be more flexible
Councillors don't prioritise IT investment
Digital should be seen as an automatic part of any business change
Data sharing is critical but there seems limited movement in government to support this
To read the full survey results, please click here.