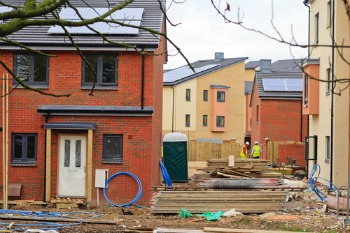 Just one in five property developers believe the Government's aim of building one million homes by 2020 is realistic, survey reveals.
Three-quarters of developers also called for a repeal of the stamp duty rises and tax relief reductions on landlords.
The new research, commissioned by Amicus Property Finance, found there was a lot of support among developers for the recent housing white paper's pledge to free up brownfield land and cut local authority planning application approval time.
Over two-thirds (69%) of developers think increasing the availability of brownfield sites will offer the most potential for developers, according to the survey's findings.
Nearly 50% welcomed the proposed reduction in the time permitted by local authorities to approve planning applications from three to two years.
The continuation of the Help to Buy scheme (45%) and increasing the focus on building homes in the affordable sector (41%) were also popular measures among developers.
However, Amicus' research revealed there were a number of other policies that developers would like to see Whitehall introducing.
More than three-quarters (78%) called for a repeal of the stamp duty rises and tax relief reductions on landlords. And more than two in five (44%) would like to see incentives for elderly people to downsize and free up family homes.
Four in 10 (41%) also think stamp duty should become a seller's tax rather than a buyer's tax, and 37% recommended a suspension in capital gains tax to encourage more land to come to the market.
'Property developers appear highly supportive of a number of the ideas in the white paper, particularly releasing more brownfield land to the market and the greater focus on affordable housing,' said Keith Aldridge, founder and managing director at Amicus Property Finance
'The existing Help to Buy initiative has also been well received by many developers and we have already financed a number of successful developments in the south east.
'Though large scale Government investment plays a part in stimulating supply, developers see the current tax laws as one of the biggest obstacles to solving the housing crisis, particularly repealing the recent stamp duty increases for landlords.'