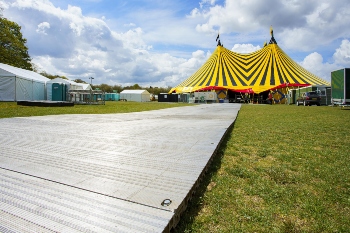 It seems hard to imagine that thousands of people - who are not wearing masks or practising social distancing - can get together without spreading COVID-19 but pilot schemes across the country have proved otherwise.
The Government gave permission for a range of events to take place before restrictions are lifted to test how large crowds can get together safely as part of its national Events Research Programme (ERP).
One of these was the Sefton Park Pilot music festival, one of four pilot events to take place in Liverpool. The 5,000 people attending the six-hour long gig had to provide a negative COVID test to gain entry, and were encouraged to take a PCR test afterwards.
Liverpool Public Health officials and scientists have found the city's pilot events did not cause any detectable spread of COVID-19 across the region. After the music festival, only two people were identified with the virus four to seven days after they attended. Everyone who tested positive was successfully followed up by the contact tracing team.
So just how did Festival Republic safely deliver this event and what will it teach local authorities looking to put on small and large scale events later this year? LocalGov caught up with Sunbelt Rentals who provided a wide range of equipment and products to the pilot to find out more.
Q: What equipment did Sunbelt Rentals supply in order to deliver a safe event?
Graham Dames, business development director - events: 'Our product supply to the event was broad as the organisers were trying to do everything they could to minimise the risk of the transmission of COVID-19, working alongside the council on the safe running of the event.
'We provided hand sanitisation stations for the production team, self-standing units that incorporated automatic dispensers for hand gels. We supplied a few items of PPE along with non-surgical face masks, these included FFP2 and FFP3 face masks. Our air disinfectant units were an interesting addition, positioned in various areas across production spaces. Combining HEPA filtration, UV-C technology and carbon filtration with fast moving air they kill 99.9995% of all airborne viruses and germs.'
Geoff Fawkes, business development director - government: 'We supplied all the barrier within the perimeter of the Sefton event, based on our key ability to understand the deployment of large volumes of barriers. This experience has been gained largely through supplying all the crowd control barriers to the Metropolitan Police in London for marathons and other state events.
Graham: 'The organisers had to look at the flow of the public in a practical and safe manner, we supplied the product to facilitate that requirement.'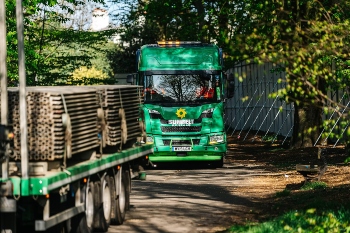 Q: Why were Sunbelt Rentals the right partner to help deliver this pilot project?
Geoff: 'Thinking about the experience we've had with the test and trace sites for the department for health, we have a very good understanding of what the infrastructure provision is for those sites and how they operate. Sunbelt Rentals has a lot of experience of working with local authorities and in the events market as well. If you put all of those together, that's an awful lot of knowledge in the business on how to do things safely.
'We've also probably got the largest and newest rental fleet in the UK so we can supply all the equipment needed to support an event such as this. We can supply all elements of the equipment like accommodation units, welfare units, toilets, lights, and trakway.
Graham: That experience is key for me, we've been operational throughout the whole pandemic, that along with being able to provide a very broad range of services all contributes to becoming a strong supplier of choice.
Q: What were the main lessons learnt in developing a successful blueprint for delivering events safely?
Graham: 'It was the first greenfield test event, so it was a new experience around new protocols and additional risk mitigation, both in the ways of working and actual equipment supply. We've gained a greater insight in how we all need to work together during these times. All have demonstrated how successful an event can be planned and delivered during these exceptional times.
Geoff: 'Understanding the perimeters of what the client is having to achieve in the restrictions we are having to deal with, that was a useful learn. Thinking about how you apply that in each stage of the project, such as us getting involved in the design phase and where we can be a trusted advisor around some of the equipment we mentioned and the way things are deployed. Then looking at how that translates into the design of the event, the build of the event and the actual running of the event. Also how we decommission it and leave a legacy of virtual untraceability that we were ever there.'
This feature was prepared in partnership with Sunbelt Rentals.