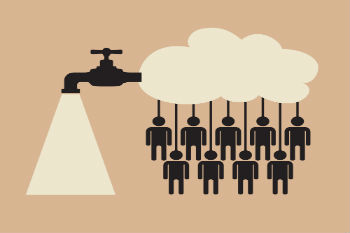 Generating new ideas is challenging business, particularly for large organisations with well established ways of doing things. But it doesn't have to be. The advantage of being a large organisation — whether a local authority or a company — is you have a potential resource that frequently goes unacknowledged as a source of ideas: the workforce.
An organisation's employees, thanks to their location on the frontline, are a potential goldmine of innovative ideas. The employer just needs to know how to extract this information and put it to good use. This is where crowdsourcing comes in, an idea that has come into its own in the digital age.
If you're unsure what it is, imagine the following: You're trying to think of somewhere new to go for dinner. What do you do? You visit Facebook or Twitter to ask your friends and followers, or you google Trip Adviser to get culinary hints from strangers. This is crowdsourcing. You are accessing what Jeff Howe, the writer who coined the term in the pages of tech magazine Wired, called 'the latent talent of the crowd.'
Organisations, as well as individuals, can use this to great effect, and councils in particular can benefit. Local authorities have a lot of 'latent talent' and, in a time of increasing demand and declining resources, they certainly have a need for new ideas. Crowdsourcing is not the answer to this — but it could help find out what is.
'Crowdsourcing has come to be a way that organisations of all types and sizes can use their networks to help solve a specific problem,' explains Rosemarie Diegnan, the chief strategy and product officer at the crowdsourcing company Wazoku. These networks, she explains, may be internal to the organisation, i.e. the employees, or external (customers, the wider public etc.).
This is a very different way of operating. 'Traditionally, organisations have done things like rely on some subset of the internal organisation to come up with all the ideas,' continues Ms Diegnan. 'Whether it be senior management or whether it be a specific function within the organisation, they rely on a small number of people who may not have the full picture to come up with the ideas.'
But with crowdsourcing it is different, she says. You are engaging in a conversation. 'It is not a one way dialogue. Everyone can get involved and everybody comes with a different perspective.' Not only is this a more democratic way of solving a problem; it is a more efficient way too. 'Everybody has an opportunity to provide feedback and make those ideas better,' insists Ms Diegnan. 'Very rarely is an idea born fully formed,' she adds. By using the wisdom of crowds, or the 'hive mind' as it's also known, the best ideas will float to the top.
Crowdsourcing is already being utilised in the public sector. One example is OurMK in Milton Keynes. Partly funded by the Higher Education Funding Council for England (HEFCE) and led by The Open University, it is an online citizen engagement platform dedicated to helping residents solve problems collaboratively in their local areas.
A number of local authorities have also given it a go. In 2014, the London Borough of Lewisham used crowdsourcing to encourage 'innovative and game-changing ideas' from staff on how to deal with budget cutbacks. Faced with the daunting task of saving £95m in four years, they turned to their 3,000 members of staff for inspiration. 'Innovative ideas can come from anywhere within an organisation and it is for precisely this reason that we are using this tool,' said the borough's chief executive Barry Quirk.
Nottinghamshire County Council also turned to their workforce for ideas. In fact, they worked with Wazoku. 'We used the Wazoku platform on a time limited basis to engage employees to secure ideas about potential budget saving opportunities as part of the national austerity agenda,' explained Julian Austin from their communications department. They've discontinued this now but, as Mr Austin says, they have continued to engage colleagues through a range of internal channels.
Further afield there is also Better Reykjavik. This is an online platform that connects citizens of Iceland's capital directly to the city council, allowing them to have more of a say in the running of their city and giving councillors the benefit of their residents' expertise.
Founded in the wake of the financial crisis, the site aimed to empower citizens — the council's external network — to give them more control over those who controlled their lives. As Robert Bjarnason, one of the minds behind it, put it to me: 'We started our work right after the financial crisis hit Iceland in 2008 with the aim of giving citizens a stronger voice in policy-making. It has been really good with participation growing each year.'
To date, according to the innovation foundation Nesta, almost 60% of the city's citizens has used the platform and the city council has spent €1.9m developing over 200 of their ideas. The open source platform has even gone beyond this. Apparently, in Estonia 50,000 citizens have used it to submit more than 2,000 proposals to Government.
So there are plenty of examples out there councils can draw on. But any local authority should be aware they may not get instant results. As Ms Diegnan explains: 'It's typically a shift in culture. It can take a long time for the organisation both internally and externally to recognise and adopt that change in culture.' Wazoku warns the organisations it works with that it can take 12-24 months for a crowdsourcing culture to really become embedded in an organisation. 'It does take that much time for people to actually believe that if I give you my feedback you're going to do something with it,' says Ms Diegnan.
However, there are things an organisation can do to encourage people to get on board. Marc Penny, head of process efficiency & delivery excellence at SSCL, a business which specialises in delivering shared services across the public sector, has some tips for councils getting into crowdsourcing.
The main point is that it is crucial to show those you wish to engage with that their ideas will be heard and put into action. This is something Mr Penny emphasises. 'What we put around it is the structure and governance to ensure those ideas are reviewed every month,' he says, 'and where we've got quick wins they're implemented very quickly so we've got that very clear feedback loop to people to say: we're asking for your ideas, we're then evaluating those quickly and implementing where we can quickly.' These 'quick wins', Mr Penny adds, should also be publicised and celebrated to let people know they are not just shouting into an empty well.
During the 15 month period SSCL have had their crowdsourcing platform — their Innovation Station — up and running, they have had over 550 ideas and over 1,600 people commenting on those ideas, and so Mr Penny's advice appears to be worth listening too.
He concluded our chat with one last bit of advice. Before moving to the private sector he acquired experience working in the public sector, including in local government. 'Local government was very good with focus groups with communities and focus groups with citizens,' he says. 'But that was quite often a show and tell. This is what we're going to do, what do you think.' Crowdsourcing, he stressed, was 'really taking it to that next level.'