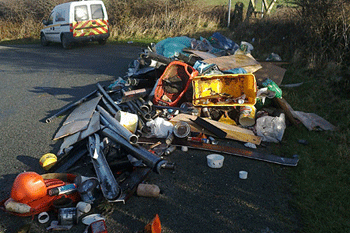 Local authority leaders have urged the next Government to ensure that councils have the necessary funds to tackle fly-tipping.
The call was made in response to the latest statistics from the Department for Environment, Food & Rural Affairs (Defra) which show fly-tipping incidents have increased by 8% over the last year.
During the 2017/18 period, local authorities in England had to deal with 998,000 cases of illegally dumped rubbish, according to Defra. This rose to 1,072,000 in 2018/19.
Cllr David Renard, environment spokesman for the Local Government Association (LGA), said that it costs taxpayers in England more than £57m a year to clear up after fly-tippers.
He said that the next Government needed to provide councils with sufficient funds for fighting illegal dumping.
'Councils are determined to crack down on the problem, including installing CCTV at fly-tipping hotspots which has led to successful prosecutions,' Cllr Renard said.
'However, prosecuting fly-tippers often requires time-consuming and laborious investigations, with a high threshold of proof.
'The next Government needs to ensure councils have the funding needed to investigate incidents and should review sentencing guidelines for fly-tipping, so that fly-tippers are given bigger fines for more serious offences to help deter incidents.'
The LGA also urged manufacturers to do more to discourage fly-tipping.
'Manufacturers can also contribute, by providing more take-back services so people can hand in old furniture and mattresses when they buy new ones,' Cllr Renard said.