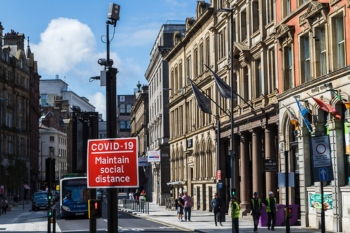 Liverpool City Council has called on the Government to introduce a new national lockdown to stop the rapid spread of the new strain of coronavirus.
The council warns that COVID cases have reached 'alarming levels' after they trebled in the past two weeks across the city.
Acting mayor, Cllr Wendy Simon, said a new national lockdown, coupled with mass testing, is the only way to slow the spread of the new strain of the virus.
Labour leader, Sir Keir Starmer, is also calling on Boris Johnson to introduce a third national lockdown across England within the next 24 hours.
Cllr Simon and Cllr Paul Brant, cabinet member for public health, said: 'We need the Government to listen to those at the frontline, both in our hospitals and frontline services. We as a nation can cope with a lockdown. We have before and we can again. The quicker we move into one now, the more lives will be saved and the quicker a recovery will be.
'Yes, there will be pain for our retail and hospitality sectors, but they want long term security and a strong recovery and a lockdown provides both. An additional package of welfare and economic support will also be needed, especially to protect the most vulnerable.'
Photo: Jason Wells / Shutterstock.com