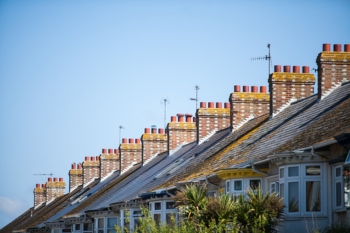 As The Observer newspaper uncovered recently, at least 130,000 households in England were made homeless during the first year of the pandemic. But how this was even possible given that the Government had banned evictions?
The unfortunate reality is that large numbers were forced from their homes for reasons other than eviction – often because of domestic violence. And with the eviction ban now over, many are asking whether we will see an even bigger increase in homelessness.
Understandably, there have been calls for the eviction ban to be reintroduced, but I feel that there is an argument to suggest that this is a bit of a red herring. As we can deduct from the figures sourced by The Observer, even if it had been extended it would not help those facing homelessness for reasons other than eviction.
The real issue remains that we desperately need far more social and affordable housing in this country.
And I believe there are four steps which are key to achieving this.
1. Sharing is caring
Government housing policies (including during the pandemic) continually seem to be geared towards incentivising private sales. The Stamp Duty cut is a classic example.
But whilst this might be attractive to those already owning a home (which they wish to sell) and those with the means to buy one, it does nothing to radically increase the availability of affordable housing.
Nor does it help those who are still some way off having the cash available for a deposit to buy somewhere own their own but for whom shared ownership is a more viable prospect.
So instead of seeing increased private sales as the litmus test for any new housing policy, we need a new test – does it actually make some form of home ownership more attainable for greater numbers of people?
This is a mindset shift as much as a policy shift. It will require offering more shared ownership but if we do not make it then we are never going to help the thousands of people who are nowhere near buying on their own.
2. Genuine affordability
Second, we need to reclassify what are counted as affordable homes.
Currently, the UK Government's definition when it comes to renting is that affordable homes should cost no more than 80% of the average local market rent. But with such limited supply in many areas, this figure is far too high for many to access.
So instead ministers should look again at the definition of what constitutes "affordable" in individual local areas, factoring in metrics such as the local jobs market and cost of living.
3. Repurposing our high streets
Third, whilst increased supply is clearly a priority, new developments take time. For that reason, we must be bolder and more imaginative in how we repurpose existing space, especially the local high street.
For years there have been discussions about how to "save it". But there have been fundamental changes to how we shop (not least the rise of e-commerce) which mean that there is simply not the same demand for retail space that there once was.
Far better for high streets to be reimagined as new neighbourhoods. This is also more environmentally friendly, avoiding the carbon footprint of entirely new construction whilst reducing travel-generated emissions by situating housing in existing conurbations.
4. Proposed planning reform
Finally, there is the perennial issue of planning reform. In theory, the proposed new Planning Bill's "zonal" approach to development should make it more difficult to block new housing schemes.
The idea – which is used to varying degrees in the United States – is that rather than local authorities granting planning permission on a case-by-case basis, there is a general presumption in favour of permission if it complies with the zoning. For example, a new house being built in a zone designated for housing.
Some people might think that is a good thing if it delivers more homes, but the huge risk if of course that this will simply greenlight yet more unaffordable housing that does not meet the needs of local communities.
Ultimately therefore, it is vital that when the Bill comes before Parliament in the autumn, safeguards are written in which entrench an "affordable first" mindset – as well as incorporating as much as possible the other steps I have outlined above.
If MPs can achieve that, then we might finally demolish the spectre of ever increasing homelessness in the UK, which has been a blot on our society for far too long.
Guy Horne is co-founder & CEO of social impact real estate firm HSPG