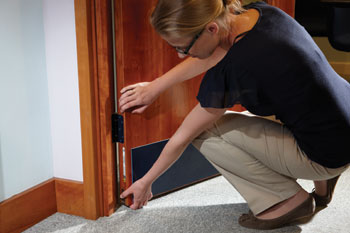 On the 14 June the world watched in horror as flames engulfed Grenfell Tower leaving many people asking the same question; how is it that some of the most vulnerable people in our society have been housed in a building that was so unsafe?
Research from last year's Fire Door Safety Week highlighted that the nation's poorest and most vulnerable are at greatest risk from fire. Only a third of the lowest income households renting flats say they have been given information on the emergency fire plan for the building where they live, compared to 88% of tenants on incomes over £100,000 a year.
More than half of all tenants, and over 70% of lower income tenants, have no idea who the 'Responsible Person' is for the building where they live - the person to whom they should usually report their fire safety concerns. And worryingly, 45% of Responsible Persons surveyed did not know or were unsure of their role.
While the investigation takes place, we can only speculate about the state of fire safety measures in the tower block. But now is the time to scrutinise all existing building stock, not just in the housing sector, and rectify the mistakes that have been allowed to go under the radar for so long. Local authorities need to take control, and fast.
There is an endemic fire safety problem in this type of building stock. As I have walked around tower blocks investigating fire safety breaches, I've seen flats that don't even have fire rated doors. Some of the most common breaches are wedged open fire doors on stairwells and corridors, no emergency lighting or signage on escape routes and doors with no fire or cold smoke seals in them.
Fire doors are often overlooked when it comes to fire safety but they play a key role in passive fire protection. This is why they are particularly important in apartments and high-rise blocks. A fire door is designed to hold back fire, cold smoke and toxic gases, delaying the spread around a building and keeping means of escape and access routes clear for the emergency services.
Simple things like removing obstructions and combustible material from common areas, displaying information on the specific fire plan of the building, and making sure residents are armed with the knowledge of what to do in an emergency are things that landlords and building owners could easily fix.
But, some of the other fire safety issues go much deeper. The fire stopping between construction elements is not going to be so quick to inspect or easy to remedy. Local authorities should not underestimate the scale of fire safety issues in these buildings. There are buildings that existed long before we started to refurbish the external envelope, and those that, if buildings are not invasively inspected now, will slip our notice once again.
We are dealing with decades of underinvestment, neglect and inaction. Even before Grenfell, it is not as though we didn't know about broken fire compartmentation issues. It was the reason that Ronan Point in Canning Town, Newham was finally demolished in 1986 and it also attributed to the rapid and uncontrolled fire spread at Lakanal House in 2009. It's shameful that it has not ever really been dealt with.
This is why Fire Door Safety Week campaigners have renewed their call for a publicly available national register of Responsible Persons for fire safety in rented accommodation. There needs to be a total transformation of attitude towards fire safety, and the most critical dissection of these buildings through an invasive inspection process. Complete transparency is needed between local authorities, housing associations and those that they have a duty of care.
The identity of the Responsible Person is often a mystery. It can become very difficult for tenants to identify who it is or get answers to their fire safety concerns, especially in organisations that own or manage vast housing stock.
Under the Fire Safety Order (FSO), the Responsible Person has to ensure that a regular fire risk assessment (FRA) is carried out by a competent person and is documented. The FRA should examine all aspects of fire safety management, including active and passive protection measures, as well as the specific fire plan procedures. If the Responsible Person's own knowledge is lacking, it's also their responsibility to engage with someone with the relevant expertise, the 'Competent Person', and act on any improvement advice.
As part of wider research, the British Woodworking Federation (BWF) examined a sample of local authority and housing association FRAs. This research indicated that fire door issues were the most persistent problem as in just under 90% of documents, improvements to fire doors in common areas and flat front doors were recommended.
FRAs are not invasive enough as they don't inspect or account for all parts of the building that you can't get to. For example, the fire stopping behind door architraves and between construction elements is hidden in the very fabric of the building and is not checked in a standard FRA.
It's time for local authorities to step it up and conduct full, detailed building investigations that look into every single element. From there, they can examine the building as a complete system. It will allow them to account for all of the other factors that impact on a holistic approach to fire safety, such as occupant profile and ability for the FRS to respond.
This is the only way that we can ever really know if a building is safe and confidently reassure residents.
Hannah Mansell is spokesperson for Fire Door Safety Week, technical manager of the British Woodworking Federation (BWF), chair of the Passive Fire Protection Forum and trustee of the Children Burns Trust.