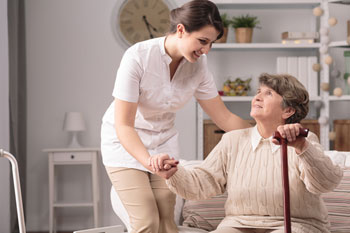 An investigation has been launched after revelations some care homes are breaking consumer protection laws by charging families after a resident has died.
The Competition and Markets Authority (CMA) has published the initial findings of their care homes market study which reveals multiple 'emerging concerns' in the sector.
The research warned 'certain practices and contract terms' might break consumer law.
The CMA unearthed cases of large upfront fees and fees charged after death, which are being investigated in a consumer protection case.
They also raised concerns of a lack of information about prices on care home websites, and care homes' contracts giving homes wide-ranging discretion to ask residents to leave, at short notice.
The initial findings also revealed many people find it difficult to get the information they need to make informed choices about care homes, and are confused by the social care system and funding options.
Complaints procedures are also 'not functioning well', the CMA found. Redress systems often do not work well and residents can find it very challenging to make complaints.
'Some of the most vulnerable people in our society use care homes, often moving to them under extremely difficult circumstances,' said CMA acting chief executive, Andrea Coscelli.
'It's therefore essential they are able to make informed choices, understand how services will be paid for, and be confident they will be fairly treated and able to complain effectively if they have any concerns.
'We also have particular concerns that some care homes might be breaking consumer law and have opened a consumer protection case to investigate further.'
'Demand for care home places is expected to surge over the next 2 decades,' she continued.
'To make sure the additional capacity this requires is available, it needs to be built in good time.
'At present, short term funding pressures and uncertainty mean that the sector is not attracting investment. We will be focusing on finding ways to deal with these, and other concerns identified.'
Commenting on the report, Simon Bottery, director of policy at Independent Age, said: 'The CMA have highlighted market failures in social care that bring the crisis in the sector into sharp focus. Older people and their families are bearing the brunt of these failures, with many people struggling to find and pay for the help they need.
'Care home contracts can often be confusing and we know that it isn't always clear to people what care services they are expected to pay for. Whilst clearly there are many homes that offer a good service, in some parts of the country as many as 2 in 3 homes are under-performing.
'We have to aspire to so much better in a care homes market valued at £15.7bn, so it's absolutely right that the CMA is shining a light on the poor practices that need to be stamped out.'
Mr Bottery said the report provided a 'timely reminder' of the sectors funding problems, and added: 'The care homes market faces uncertainty at the very moment it also faces greater demands.'