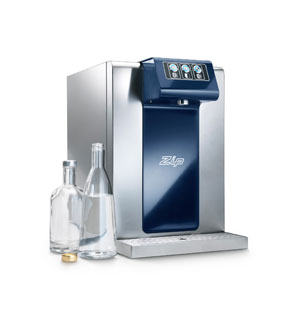 Aiming to make single-use plastic bottles in businesses a thing of the past, Zip Water UK – world leaders in commercial drinking water systems and the company behind the HydroTap – has launched a high-capacity filtered chilled drinking water range which completely removes the need for plastic bottles.
Designed for offices and hospitality areas, Zip HydroChill caters for up to 280 litres per hour of chilled, sparkling or ambient filtered water – equivalent to 373 bottles (75cl). With on-counter or below-counter options and flexible packages depending on usage requirements, the HydroChill range has been created to meet any need.
Alongside its ability to provide vast amounts of chilled water – perfect for filling re-useable glass bottles – its 3 micron Zip MicroPurity filtration system ensures that the water dispensed is safe, pure-tasting and free from contaminants. This means that those who dislike the taste of tap water have access to great-tasting water without the need to buy plastic bottles.
"The use of plastic water bottles in commercial environments is a huge contribution to environmental damage, and is completely unnecessary", comments Russell Owens, marketing director at Zip Water UK. "We know how important it is to provide employees and guests with a healthy drinking water supply – it's been proven to directly impact productivity after all – but it's important that businesses know that there are sustainable options out there.
"Even more concerning is that alongside the presence of microplastics in tap water, a recent study* also discovered microplastics in bottled water – in fact 93 percent of the bottled water tested showed evidence of plastic contamination," continues Russell. "Drinking water systems such as the HydroChill range are mains-fed with excellent filtration systems, ensuring that the water delivered is healthy and sustainable."
The easy to install and use range includes benefits such as portion control for filling bottles, purchase and rental options and a complete after-care package for peace of mind. This package – HydroCare – includes an annual service, technical support and full breakdown cover.
"Whether a business needs pre-filled bottles for meetings or has numerous staff to keep hydrated, we can provide great-tasting water in an instant," continue Russell. "We would encourage anyone responsible for a company's drinking water supply to look at whether they currently use plastic water bottles and how much plastic waste this creates. As businesses become more aware of the impact of plastic and include reduction as part of their sustainability programmes, changing to a plastic-free drinking water system is a simple but effective step to take."
Zip also offers a range of glass water bottles and accessories to be used alongside the HydroChill range.
As part of Zip's ongoing commitment to helping businesses reduce their use of plastic bottles, it is spearheading a new campaign. Reuse Refill Refresh aims to promote refreshment and hydration without the use of single-use plastic bottles.
For further information, please visit www.zipcommercial.co.uk/commercial-range-hydrochill