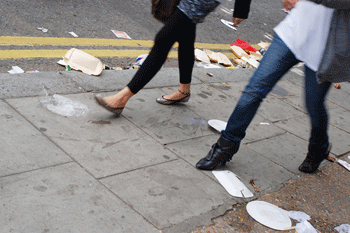 The Government has launched its new anti-littering strategy, which includes guidance for councils on how to update the nation's 'binfrastructure'.
Environment secretary Andrea Leadsom unveiled the Government's first Litter Strategy for England to reduce the near £800m burden to the taxpayer of clean-up costs.
Under the new measures, litterers can be fined £150 while vehicle owners could receive penalty notices when it can be proved litter was thrown from their car.
Other measures include the issuing of new guidance for councils to be able to improve their bins through creative new designs and better distribution of public litter bins, making it easier for people to discard rubbish.
Councils will also be stopped from charging householders for disposal of DIY household waste at civic amenity sites. The Government argues that legally household waste is supposed to be free to dispose of at such sites.
Whitehall also wants to create a 'green generation' by educating children to lead the fight against litter through an increased number of Eco-Schools and boosting participation in national clean-up days.
Eco-Schools, the initiative of charity Keep Britain Tidy, are the world's biggest environmental education programme.
'Litter is something that affects us all – blighting our countryside, harming our wildlife, polluting our seas, spoiling our towns, and giving visitors a poor impression of our country,' said Ms Leadsom.
'Our litter strategy will tackle this antisocial behaviour by building an anti-litter culture; making it easier for people to dispose of rubbish; and hitting litter louts in the pocket.
'We want to be the first generation to leave our environment in a better state than we found it, and tackling litter is an important part of our drive to make the country a better place to live and visit.'
Responding to the new strategy, Keep Britain Tidy' chief executive Allison Ogden-Newton said: 'Educating the next generation is vital if we are to win the war on litter. Our children and young people are the key to making littering a thing of the past.
'Learning about litter and its impacts, as part of their wider environmental education, must be a central pillar of the concerted effort needed to tackle the problem once and for all.'