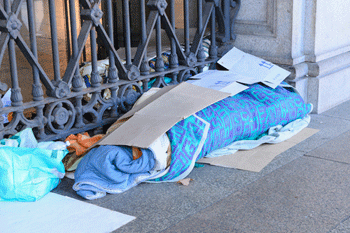 The Welsh government has announced the onset of phase two of a package aimed at providing people with safe and secure homes.
Local authorities in Wales are now able to access £40m of funding to help them ensure everyone who was provided with emergency accommodation during the coronavirus pandemic has a clear route to permanent housing.
In March, the Welsh government announced £10m of funding to provide people facing homelessness with accommodation where they could self-isolate and follow public health advice on how best to protect against COVID-19.
Phase two of the government's homelessness response, announced today, focuses on a longer term approach to transform services, innovate and build accommodation to provide secure accommodation beyond the pandemic.
'The coronavirus has shone a light on housing in a way that few of us have seen before and reminded us all of the fundamental importance of good-quality affordable housing, a safe and secure home and strong and cohesive communities where people want to live and work,' said the minister for housing and local government, Julie James.
'The best way we can tackle homelessness is by preventing it in the first place.
'I have been clear that I do not wish to see anyone forced to return to the streets. We have a unique opportunity to change the services and change lives for the better - and make homelessness rare, brief and unrepeated. We want to build on the success we have seen so far and change Wales' approach to homelessness in the long term.
'To that end I have increased the overall homelessness phase two funding to up to £50m, which clearly demonstrates the level of commitment we have to ensuring we can make a truly significant and transformational step-change towards achieving our goal of ending homelessness in Wales.
'Local Authorities, working in partnership with third sector and other organisations have come forward with some highly ambitious, bold and innovative projects that not only draw on energy efficient, modern methods of construction but also join-up with other services, such as substance misuse, mental health, primary care and community safety.
'This reflects the fact that homelessness isn't just a housing issue; it's a public services issue and it's about having access to those services where and when people need them. We're not tinkering around the edges - this is about bold, long-lasting solutions.'