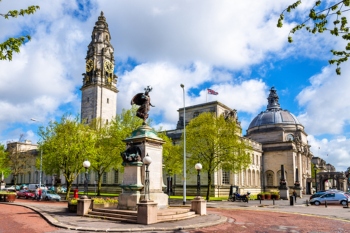 The Welsh government today announced a £15.2m 'placemaking' funding package to help revive Wales' town centres in the wake of the pandemic.
The funding package is part of a wider £110m investment through Transforming Towns, the Welsh government's town centre regeneration programme.
Available to all councils in Wales, the funding is designed to offer support for a wide range of projects, from green infrastructure developments and the creation of active travel routes, to internal and external improvements for business owners.
Welsh deputy minister for housing and local government, Hannah Blythyn, said that the new package was designed to be flexible in order to allow local authorities to choose which towns are supported and make use of the range of options available to best suit each location.
'By offering Welsh local authorities the broadest and most flexible package of support through our new placemaking fund, we have enabled our regional partners to decide upon the most appropriate mix of interventions and how to put them into practice effectively in towns across Wales,' she said.
'Together with wider Transforming Towns programme grants, this will help us to re-build our Welsh towns and to realise wider plans set out by Welsh Government – to open up new, local economic opportunities while creating sustainable places for the people of Wales to live, work, learn and enjoy.'