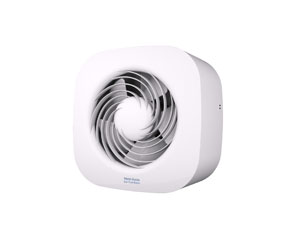 Vent-Axia, the leading British ventilation manufacturer, has added an open grille fan to its intelligent Lo-Carbon Revive range of filter-less unitary fans.
Designed to meet the specific needs of social housing the Lo-Carbon Revive range boasts powerful, quiet, efficient ventilation, providing good indoor air quality and comfort for tenants while being quick and easy to install, low maintenance and reliable. The new open grille option offers landlords all these benefits plus an additional choice to its existing tile grille.
Revive's innovative Multi-Vortex™ technology has a high-pressure hybrid impellor that is powerful and efficient, yet quiet. Drawing air into the fan fluidly and silently via its bell mouth design the open grille Revive features a technology leading aerofoil blade design which allows the air to move efficiently and soundlessly over the fan's blades, ensuring resident comfort.
Meanwhile, the impellor is manufactured from a revolutionary material allowing social housing providers to benefit from a safe and attractive open design. Operating discreetly the fan removes moisture and stale air, leaving a comfortable home environment.
With tenant satisfaction vital a silent fan is essential since a noisy fan will not only disturb tenants, it will make them aware the fan is running, this could potentially cause tenants to tamper with the fan to turn it off to avoid added energy costs. This can result in poor indoor air quality (IAQ) causing condensation and mould and subsequent damage to the fabric of a building, causing costly redecorating. Revive has been designed therefore to be powerful enough to remove moist air to ensure good IAQ, but at the same time quiet enough not to disturb while remaining energy efficient.
"We are delighted to add the open grille to our Revive range so we can offer landlords further choice when it comes to social housing ventilation. Social housing has a very specific set of needs, at Vent-Axia we understand landlords' concerns and have designed the Revive to help ensure tenants and landlords are both happy," explains Jenny Smith, Marketing Manager at Vent-Axia.
For landlords the Revive has been designed to offer simple specification. Highly versatile the Revive offers a choice of run speeds for multiple installation options and can be ducted or through the wall, making specification easy. Plus Revive is low maintenance since its market-leading Multi-Vortex™ technology does not require a filter, while the highly sculpted interior actively repels dust, avoiding clogging, thus helping to avoid call backs. Revive also boasts reliability backed by up to seven years' warranty.
Meanwhile, installers in social housing need to be able to fit multiple fans on multiple sites as swiftly and simply as possible. Featuring Smart Sense™ intelligent technology Revive is quick and easy to install with the fan featuring a simple alpha numeric LED display which is clear and easy to read and a three-button menu for commissioning and data gathering. Smart Sense™ technology even tells the LED display which orientation to use depending on whether it is wall or ceiling mounted. All of which saves time on site and reduces installation complications.
Revive's Smart Sense™ technology can also provide real-time data via an intuitive interface to communicate the fan's energy efficiency so landlords can reassure tenants of the low-running costs. Meanwhile, nuisance tripping is another reason tenants avoid using fans, Revive's Smart Sense™ therefore features an ambient response humidistat to avoid this, thus increasing tenant acceptability.
Meanwhile, Revive's Smart Sense™ also allows multiple configurations so the fan can be commissioned to meet the needs of the property and the tenant. Quick and easy to select, it offers a bespoke solution where performance or noise is key. However, despite the latest fans offering energy efficient, quiet comfort some tenants may still have concerns. To help Revive's Smart Sense™ therefore includes a Day Logger which tracks how many days a fan has been running to ensure it is used as intended.
Landlords can also use the Day Logger to track energy use and interrogate the fan on how many days a fan has been on humidity boost mode, pull cord boost mode, or trickle. This information can help build a profile of tenant activity and aids landlords in investigating humidity problems. This allows landlords to work with tenants to ensure a healthy indoor environment.
To see the Revive in action visit: www.youtube.com/watch?v=VNYC1QC_F8s
For further information on all products and services offered by Vent-Axia telephone 0844 856 0590.