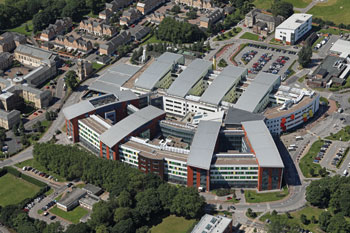 This is a challenging but opportune time for the public estate. As revenue costs increase, how can estate directors ensure that they can continue to provide more for less?
The best estates strategies are living frameworks, capable of ongoing revision in response to an inevitably changing environment. Estate planning isn't an easy task and is often one with obstacles stacked against it from the beginning.
Many of the strategies I have collaborated on have been met with hurdles to overcome before future-proofing can begin. Often, the most common obstacle is a delay in finalising other organisation-wide strategies of which an estate strategy is a vital component. In reaction, the public sector needs to improve its ability to develop business and estate strategies iteratively so they can deliver results much faster.
At Essentia we have seen this approach work favourably for a major NHS Trust emerging from a period of financial challenge. It quickly became evident that a revised clinical strategy would take significant time to complete. By agreeing 'what could be agreed' - such as key principles and fixed points - it was nevertheless possible to develop an estate strategy which could be refined progressively as clinical priorities were finalised.
It's possible to identify assets that are surplus or underutilised under any service scenario, creating opportunities for financial future-proofing. Here are five priorities for future-proofing your public estate:
1. Income generation
The steep curve of change continues to be felt by local government. However, rather than being bound by restrictions and red tape, local authorities and public sector organisations are freer to design the models and mechanisms used to pay for their increasingly modern services, and the commitment to build more housing.
We are seeing a shift in perception towards income generation and innovative revenue streams.
There is a revised, re-focused attitude to funding in the sector. Three quick ways to future proof your income generation:
Commercialise under-utilised space
Explore direct investment into commercial property to deliver income, rental and capital growth
Match your leases to current rates and regulate them appropriately.
2. Backlog maintenance
It is now more important than ever to stay on top of work to your estate. For instance, in the health sector, maintenance backlog for NHS hospitals has risen substantially in the last five years.
In fact, the current maintenance backlog is now larger than the annual capital budget – an unsustainable £6bn for 2017/18. PFI buildings helped to improve the situation with built-in maintenance contracts but this isn't the case across the wider (and older) NHS estate.
Regardless of whether or not you're in the health sector it is not cost-effective to keep operating in buildings that are not fit for purpose and definitely not fit for the future.
Future-proof your estate with these tangible approaches to your backlog maintenance:
Identify your immediate investment needs
Imbed backlog maintenance into strategic masterplanning of your estate Source alternative capital through central government, public private partnership/joint venture, third party developers.
3. Flexible design
Now, more than ever, public sector workspaces need to be agile and utilised to their maximum to ensure estates are highly efficient rather than piecemeal, sparsely occupied assets. As part of your future-proofing process you should honestly assess if you are using technology and modern office designs to achieve cost savings.
Simple room booking technologies will maximise space utilisation ensuring you're not taking on more estate and are instead using what you have more efficiently.
Interestingly, cost isn't the main deterrent. Flexible working spaces can be complicated due to information security, confidentiality and privacy. A common misconception is the association of flexible office space being an insecure open environment. Flexible design by its very nature allows you to mould spaces by need. Using office zoning for specific ways of working including collaborative, individual/quiet zones is a sure-fire way to overcome issues of information security. There are plenty of models in the commercial world that can be adopted by the public sector to achieve both agility and confidentiality.
Moreover, my advice is to be open minded about new structural approaches to construction. There are some fantastic examples of flexible building designs that have been passed over for something more familiar but not necessarily better. Estate directors need to advocate for flexible design. Particularly, they should champion models with vital building services arranged around the edges of buildings meaning the centre can be reconfigured easily as demands change, helping to future-proof building usage.
4. Funding models
The deployment of public sector assets needs to mirror the level of innovation evident within the service delivery. This can be driven by Joint Ventures, Development Agreements or Sale & Leaseback and each model provides the public sector with delivery structures with varied land owner involvements and control, and inherently differing balance between development uplift and realising returns.
Considering the estate asset as an enabler for core business will permit the public sector to release its full potential and not be confined by traditional ownership models.
Recent changes called for by NHS Improvement mean that NHS Trusts will no longer be able to use land sales to top up revenue positions. These changes, designed to upset status quo funding models, have no doubt left the UK's healthcare sector wondering whether this will diminish short-term disposals towards promoting long term revenue savings and income generation. Revaluating your funding models to find other means of unlocking value will ensure your estate strategy is fit for the future whilst ensuring greater financial risk is balanced against enhanced financial returns.
5. Taking the long-term view
The challenging political and economic climate restricts the public sector from being able to view their estate through a long lens. Ideally estate strategies need to ensure an estate can continue to deliver the best possible public services.
Markedly, there has been a shift in local government towards longer-term strategies and collaborative asset usage across the wider public sector to ensure local assets can be used to drive long term economic growth, integrate services and maximise utilisation.
Stephen Edgar is director of property consultancy at Essentia Trading Ltd
This feature first appeared in Public Property magazine. Email l.sharman@hgluk.com to sign up for your free quarterly digital issue.