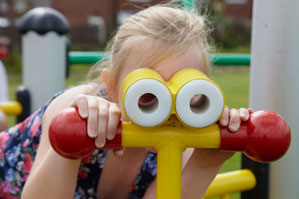 Sutcliffe Play is pleased to announce the completion of a new junior and toddler inclusive play area at Kirkdale Recreation Ground in Liverpool; the first installation to be undertaken by the company in the City of Liverpool for nearly 20 years.
The unit - which is designed to enhance play for local children and encourage inclusivity - forms part of a regeneration strategy by Liverpool City Council for the design and installation of 20 new and improved play areas across the city, utilising Cabinet funding.
The project was overseen by Glendale, a specialist in the management and maintenance of green environments, who worked on behalf of the council to gather designs for the space and to carry out consultations with the local community.
The new play area offers an abundance of play opportunities for local children, with vibrant colours and equipment which is designed to stand the test of time.
Situated within a circular fence perimeter, there are a variety of play options available for younger children, including the Two Slides Multi-play unit and Dish Roundabout enabling children of all abilities to play together, with more challenging equipment available to older children in the surrounding open space, including the Trim Trail; featuring a variety of balancing, climbing and traversing activities.
Liam Ireland, Service Area Manager for Glendale, Liverpool, said: "We've worked closely with Liverpool City Council, the local community and Sutcliffe Play to kickstart the city's regeneration plans, with a space that delivers a really valuable play experience.
"It's rewarding to know that we've given local children a place to play for years to come, whilst also creating a space that will bring families together and give people a greater sense of community."
Sutcliffe Play is proud to be a British manufacturer – all our equipment is made at our factory in the heart of an old Yorkshire mining village.
Find out more here - http://www.sutcliffeplay.co.uk/about-sutcliffe-play/british-manufacturer/
Tel: 01977 653 200 or visit www.sutcliffeplay.co.uk