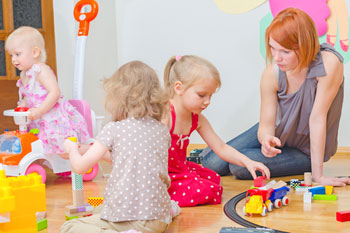 The number of local authorities with a lack of free childcare places for three and four year olds has doubled in the past year, according to an annual survey of childcare.
The Family and Childcare Trust's annual Childcare Survey shows that 59 local authorities in England said they had a lack of free places, an increase from 23 in 2015. Only 9% of local authorities had enough after-school childcare, compared to 28% in 2011.
Julia Margo, chief executive at the Family and Childcare Trust said: 'Parents will breathe a sigh of relief that childcare costs have only risen in line with inflation over the last year.
'But we are very concerned that thousands of three year olds are missing out on existing entitlements before the expanded 30 hours of free childcare is even piloted. Extra free childcare is of no use to working parents if they can't find a place for their child. To make childcare really work for parents, we want to see the right to an early education place brought in line with the right to a school place.'
The survey also revealed just 45% of councils had enough childcare for parents who work full time, with only 15% having enough childcare for disabled children. There are 11 local authorities where the average cost for part-time childcare exceeds the Working Tax Credit support cap.