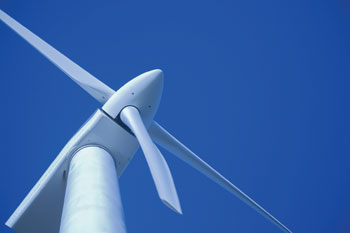 The biggest threat to humanity is climate change and the prospect of the Earth becoming, in the words of the environmental journalist David Wallace-Wells, 'uninhabitable' in the not-so-distant future. With this stark fact in mind, many local authorities have declared a 'climate emergency' and the Government has committed itself to building a net-zero carbon economy by 2050.
Easier said than done. Modern society is heavily dependent on fossil fuels and making the transition to renewable sources of energy is a complicated and costly enterprise, particularly for councils who have seen their budgets cut to the bare minimum.
The energy supplier Squeaky Clean Energy, however, argues that it has found a way to get around these obstacles with aggregated power purchase agreements (PPA).
A PPA is a long-term contract under which a business agrees to purchase electricity directly from a renewable energy generator. These contracts fix prices over a set period which helps protect those entering into a deal from market volatility. Large corporates, such as Google and Amazon, use them for their energy needs.
PPAs have a lot to offer local authorities. However, councils are wary of pursuing them because they involve negotiating complex and costly agreements, with contracts sometimes running to 120 pages. Generators are equally reluctant to deal with small organisations like councils because of concerns over economies of scale: The amount of energy required by a local authority is too small to be worth the effort.
Squeaky Clean Energy says that aggregated PPAs can help overcome these problems. They have, in the words of Squeaky Clean Energy's managing director, Chris Bowden, found a way of 'simplifying, standardising and shrinking' these agreements to make them more accessible to smaller organisations. Where once PPAs required councils to work their way through 120 page contracts, Squeaky Clean Energy have whittled these down to 15 pages – a reduction which helps lower transaction costs considerably.
The economies of scale issue can also be overcome with Squeaky Clean Energy's PPAs. Their standardised nature means that smaller bodies can club together relatively easily to buy in bulk. Squeaky Clean Energy, for example, recently struck a £50m deal with 20 universities. Individually, these institutions would have struggled to purchase clean energy at an affordable price.
Squeaky Clean Energy's PPAs, however, have enabled them to access a market they were effectively barred from before. 'One aspect of the deal which attracted us was the ability to aggregate our load with other universities in order to be able to enter into a long term contract for onshore wind power for a proportion of our total energy consumption,' Matt Dunlop, head of sustainability at Newcastle University, explains. 'This allows us to spread risk and achieve budget certainty for this element of our load.'
Energy manager at the University of the West of England, Kirsti Norris, also highlighted the savings this deal brought. 'Through this agreement, we have fixed the price for 10 years for a fifth of UWE Bristol's grid electricity provision,' she says. 'In a rising market, this will make considerable savings, freeing up funds to invest on other energy saving and renewables provision on our campuses.'
Councils might also benefit from similar deals. 'There's a big opportunity for local authorities to really lead in the deployment of further renewables by entering into these types of arrangements,' Squeaky Clean Energy's Mr Bowden says.
'They may not want to do the whole volume of the supply, but local authorities use a lot of energy and their willingness to enter into these agreements would mean that more renewables would be built. They can take the lead in terms of the move to carbon neutral by 2050.'
This feature first appeared in Public Property magazine – sign up for your own free digital copy here.