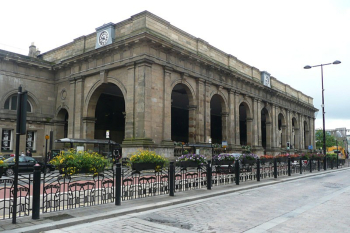 Councillors in Newcastle are considering a multi-million pound package of measures that will revamp the city's central station.
Next Monday the city council's cabinet will discuss spending £5.2m to create new space for passengers in the station and a new taxi pick-up point.
They will also look at plans to introduce changes to short-stay parking.
A new access road to open-up a nearby site for housing and offices and a new station entrance will also be discussed.
'The central station is the jewel in the crown of the North East rail network. The glass portico and shops have given visitors a much more pleasant arrival,' said the cabinet member for employment, Cllr Ged Bell.
'However, with more and more people using rail, we need to make further changes in and around the station, so it is fit-for-purpose, and we can meet air pollution targets with better traffic flows at the front of the station.
'These initial proposals may be modest, but they are also an important step in delivering a wider vision.
'They show our desire to see the station and the surrounding area open for development and passenger's enjoying their experience.'?