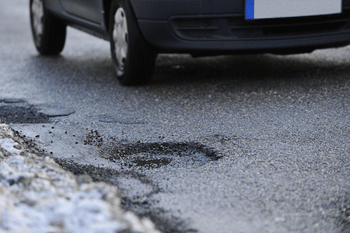 Labour is vowing to commit £300m towards fixing the country's potholes if it takes power following May's General Election.
As the campaigns gain pace following publication of the party manifestos, Labour will today pledge to fix an extra six million potholes over the next Parliament.
Labour is expected to fund the commitments by halting two planned road upgrades on the A27 Arundel bypass and the A358 from Taunton to Southfields.
However civil engineers today warned the country needed an 'urgent rethink' on pothole repairs with a whole new funding model.
While Conservatives have outlined plans to mend 24 million holes in the road, shadow transport secretary Michael Dugher said his party would boost spending on repairs and surpass their target by six million.
In addition to the pothole cash, Labour said it would commit an extra £89m towards cycling and walking on top of £400m already pledged by the Coalition.
A recent poll by the Institute of Advanced Motorists found 70% of questioned motorists thought fixing potholes should be the next government's highest priority for roads.
Dugher said: 'Under David Cameron, our local roads have been totally neglected and have been allowed to deteriorate to a desperate state of disrepair. This is costing motorists and is a danger to all road users, including cyclists.
'Hard-pressed road users have justifiably had enough of having their vehicles and bikes damaged because of Britain's pothole crisis.
'The Tories and Lib Dems have set out plans that will see spending on our local roads fall over the next Parliament. Labour has a better plan to fix Pothole Britain – we will boost spending on local roads over the next five years.'
Responding to the pledge, chief executive of the Civil Engineering Contractors Association, Alasdair Reisner, said: 'Councils estimate that £12bn worth of repairs are needed in England alone to bring the network up to scratch. This growing backlog of work must trigger an urgent rethink of the way repairs are funded.
'A one-off programme of intensive improvements to local roads would significantly reduce the long-term cost of maintaining the network. But there is a need for a new funding model to tackle highways maintenance once and for all.'