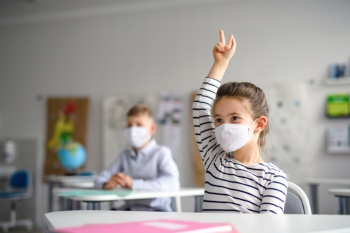 A £700m education recovery package to help students catch up on missed learning has been announced by the Prime Minister.
The package includes a new one-off £302m Recovery Premium for state primary and secondary schools to support the most disadvantaged pupils.
The rest of the money will be used to expand tutoring programmes and enable secondary schools to deliver face-to-face summer schools.
Boris Johnson said: 'When schools re-open and face to face education resumes on 8 March, our next priority will be ensuring no child is left behind as a result of the learning they have lost over the past year.
'This extensive programme of catch-up funding will equip teachers with the tools and resources they need to support their pupils, and give children the opportunities they deserve to learn and fulfil their potential.'
The Government has also appointed an education recovery commissioner, Sir Kevan Collins, to review how evidence-based interventions can be used to address the impact the pandemic has had on learning.
However, Labour criticised the level of funding arguing it equates to just 43p per day for each child.
Kate Green, Labour's shadow secretary of state for education, said: 'This is not adequate and will not make up for the learning and time with friends that children have lost.
'There is no specific mention of supporting children's mental health or wellbeing, which is fundamental to enabling their recovery from this pandemic.'