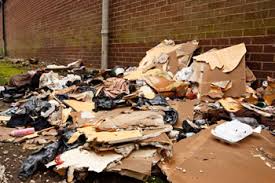 Councils are facing a £50m annual bill for clearing up litter and dealing with fly-tipping, new figures have revealed today.
The new statistics show that councils dealt with 936,000 fly-tipping incidents in 2015/16, an increase of 4% from the previous year.
Just over two thirds of fly-tips involved household waste, an increase of 6.5% from 2014/15.
Council leaders said this money could be better spent on delivering vital frontline services.
'Litter and fly-tipping is environmental vandalism – it's unpleasant, unnecessary and unacceptable,' said environment spokesperson for the Local Government Association, Cllr Judith Blake.
'The Government has responded to our call for councils to be able to apply Fixed Penalty Notices for small scale fly-tipping – and this is a big step in the right direction. We need a new streamlined system which helps councils - one that is nimble, flexible and effective. Not only does fly-tipping create an eyesore for residents, it is also a serious public health risk, creating pollution and attracting rats and other vermin.'
The LGA are calling for manufacturers to provide more take-back services to make it easier for people to hand in old furniture and mattresses.