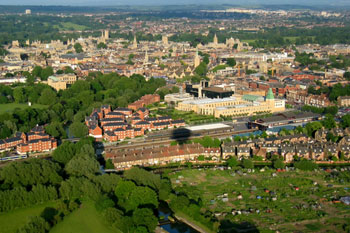 Oxford City Council and four district councils have united to reject calls for a single unitary council in Oxfordshire, claiming the savings possible have been 'vastly overstated'.
Responding to a report published yesterday - which said a unitary council would save the county £33m a year - the councils have publically opposed the move.
In a joint statement, the leaders of Cherwell, South Oxfordshire, Vale of White Horse and West Oxfordshire District Councils said they were 'disappointed' the report had been commissioned and published at taxpayers' expense.
They said the report had no regard for actual service delivery arrangements, had exaggerated the savings available and had understated the cost of implementation.
The statement said: 'The county council answer to its financial woes is to blame someone else, whether it be Government or, in this case, rural residents who will not want a one-size fits all service. This approach to calling for council boundary restructure is of the last century.
'It is contrary to Government policy, which says "don't waste your time and money on unitary bids". It appears once again that the county council is ignoring national guidance, in the same way that it did when offered government incentives to freeze Council Tax - unlike the rural districts which have frozen, or reduced, tax levels charged to residents.'
The leader of Oxford City Council, Cllr Bob Price, also accused the county of using the proposals as 'an ill-disguised bid to grab the carefully managed resources of the districts to plug holes in its budget'.
Cllr Price added: 'Instead of wasting its money - and everyone else's time - the county council should be using its influence to reverse the harsh cuts in government funding.'