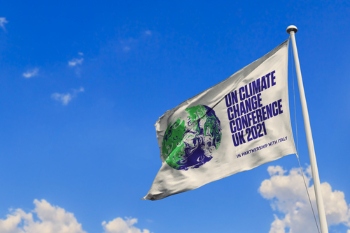 Eighty-eight cross-party local leaders, representing over half of the UK population, have now committed to meeting net zero at least five years earlier than the Government.
In the weeks ahead of COP26, the annual UN climate conference hosted in 2021 by the UK, 23 more council leaders from across the country signed up to the NGO UK100's 'Net Zero Pledge'.
The pledge commits the local leaders to neutralising council emissions by 2030 and those of their residents and businesses by 2045 – five years ahead of the Government's 2050 target.
The new UK100 members include South Tyneside Council, Suffolk County Council, Portsmouth City Council, East Ayrshire Council and Greater London Authority. Mayor Sadiq Khan, who represents 8.9 million Londoners, joins UK100 as its biggest member.
'The fundamental challenge of our time is moving towards Net Zero greenhouse gas emissions to preserve our way of life and avert climate breakdown,' said Christopher Hammond, Network Membership Director at UK100.
'As the international community comes together in Glasgow for COP26, global decisions need to be delivered at a local level. It's a task that will need bold leadership, legislative clarity, shifts in behaviour and enthusiastic adoption of new technologies.
'Local government is uniquely placed to overcome these challenges. Not only do they provide services, but they have a unique sphere of influence.
'Fantastic things are already happening from UK100's ambitious members, in county, city and town halls across the country. They are already playing a decisive role in tackling climate change ahead of the UK government's target, making their communities fairer, safer and greener.'
Image: rafapress / Shutterstock.com.
For more on decarbonisation visit The MJ (£)