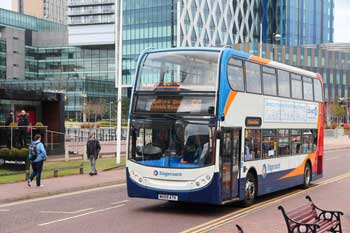 Councils have been forced to reduce bus services by more than 12% in the past year due to government funding cuts, town hall chiefs have announced.
New figures from the Local Government Association (LGA) show that in the last financial year, the mileage of council-supported bus services outside of London has fallen from 165 to 144 million miles.
The LGA said councils have been forced to divert money from discretionary subsidised bus services to plug the funding gap in statutory Concessionary Fares Scheme.
It is calling on the Government to fully find this scheme, and for the £250m Bus Service Operators Grant to be devolved to councils.
Cllr Martin Tett, transport spokesman for the LGA, said: 'Local authorities are working with residents to try and find innovative solutions such as organising car-sharing schemes, dial-a-ride or community transport initiatives but routes and services can no longer be protected.
'Unless the Government commits to fully funding concessionary fares, elderly and disabled people will be left stranded with a free bus pass in one hand but no local buses to travel on in the other.'