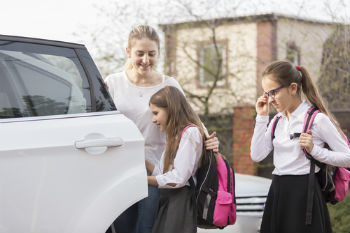 Over two fifths (43%) of children living in urban areas are concerned about levels of air pollution near their school, according to a new survey.
A YouGov poll, carried out for campaigners Sustrans, asked more than 1,000 children aged six to 15 about air pollution and the actions they think should be taken to help clean up the air.
More than one in three (34%) think politicians are most responsible for bringing down levels of air pollution, while over a quarter (29%) believe drivers are.
A similar number (38%) of those surveyed think encouraging more people to cycle, scoot or walk to school is the best way to help to reduce levels of air pollution, while a further 16% feel that reducing the number of journeys taken by car would play the greatest role.
Sustrans CEO, Xavier Brice, said: 'We're in the midst of an air quality crisis. This survey demonstrates for the first time that children are aware and concerned about poor air quality. We wanted to hear their views on the matter, as they are some of the most susceptible to the adverse effects of air pollution, which can lead to poor lung and brain development and asthma if exposed for long periods of time at a young age.
'The UK Government needs to show leadership by helping local authorities fund and deliver better cycling and walking infrastructure so that every child is able to travel on foot or by bike to school in safety and with confidence. Failure to act now on high levels of air pollution has the potential to have a detrimental impact on children's health.'
This article first appeared on Transport-Network