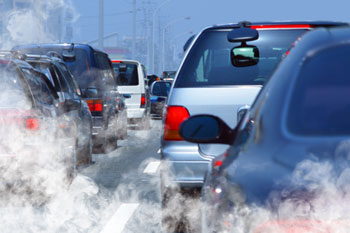 Four committees have called on the Government to force the car industry to contribute to a new clean air fund to help improve air quality.
The MPs said the industry should pay 'on a scale that adequately compensates for the health costs of diesel pollution'.
Evidence from the Royal College of Physicians suggests that the health impact of air pollution costs the UK £20bn a year while transport experts at the Local Government Technical Advisers Group suggest road transport currently constitutes 34% of NOx emissions and this increases in areas currently in exceedance of legal limits.
This means the car industry could face charges running into the billions every year if the Government was to implement the move.
Health conditions linked to air pollution have been attributed to the equivalent of around 40,000 life times lost across the country each year.
The inquiry also called for the introduction of a Clean Air Act to improve existing legislation and enshrine the right to clean air in UK law.
'The Government must set out its regulatory course, including whether to adopt World Health Organization air quality guidelines for all air pollutants, including sulphur dioxide, particulate matter and ozone, and not just nitrogen dioxide,' the committees said.
'This legislation should aim to achieve the widest possible health benefits by adopting World Health Organization targets into UK statute.'
The Government must bring forward the date at which sales of conventional diesel and petrol cars are to be banned, currently 2040, to match other nations which have set dates around 2030, the 49 cross-party MPs concluded.
They also stressed that the issue should not be seen as an attack on motorists.
'The debate on air quality is too often cast as a war against motorists, when in fact regular car users are among the worst affected. Pollution levels are often higher inside cars than on the street, meaning a switch to active transport offers dual health benefits.'