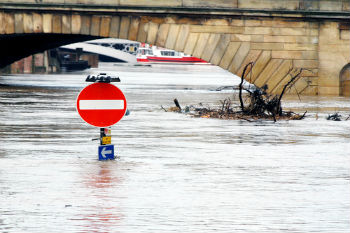 David Cameron has pledged £30m of support for flood-hit councils as local leaders mount calls for cash to reach communities quickly.
In addition to the £7m flood recovery package announced last month, the prime minister has revealed the Department for Transport will provide additional funding for local authorities in England for road maintenance work including pothole repairs.
Further measures announced by Downing Street include a £5,000 'repair and renew' grant for homeowners and businesses affected by recent flooding, which will top up money received from insurers to include flood resilience in building repairs.
Farmers suffering from waterlogged fields will receive cash from a £10m fund, while all effected businesses will get 100% business rate relief for three months alongside tax support.
Cameron said: 'We are helping people who need help and protecting communities who need protecting, and as I said yesterday money is no object to help this flood relief effort.'
The Local Government Association (LGA) has urged ministers to ensure emergency recently announced funds reached affected areas 'as quickly as possible' to support rescue efforts.
Vice-chair of the LGA's environment and housing board, Cllr Clyde Loakes, said councils had been working day and night to support residents affected by the severe weather.
'The commitment by the Government to fully fund the recovery effort will help the councils working tirelessly on the ground to protect residents, homes and businesses from the damage being caused by the heavy rains, strong winds and flooding.
'Councils are best-placed to understand where help is needed locally and it is vital that government works with us to ensure that this money reaches affected communities as quickly as possible.'