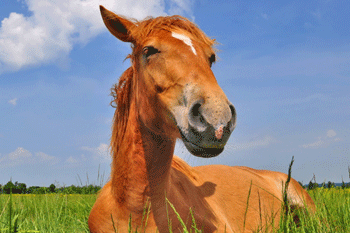 Four local authorities have picked up awards from the RSPCA for their contribution to animal welfare.
Wakefield's multi-agency approach to equine welfare to tackle the problem of fly-grazed horses has been cited by Government as an example of best practice.
Basingstoke and Deane Borough Council worked with neighbouring authorities and local groups to produce a guide to help members of the public identify who is responsible for different aspects of animal welfare.
Both councils were among winners in this year's Community Animal Welfare Footprints scheme.
Other winners were Hackney Council for its efforts to find new homes for abandoned cats and Hartlepool Borough Council, which tackled 200 illegally grazed horses through a combination of enforcement and education.
Lenny Rolles, the RSPCA's senior parliamentary adviser for local government, said: 'It was good to see a variety of entrants from local authorities and social housing providers covering a various issues important to animal welfare.
'The awards are prestigious and the four RSPCA Innovator Award winners from across the country should be congratulated for demonstrating their pioneering practices in animal welfare. All applicants for the awards should be commended for the efforts they have taken to improve animal welfare in the tough economic climate faced by local authorities.'
Cornwall Council and Northamptonshire County Council were both highly commended by the judging panel for their animal welfare work.
Jeremy Adams, lead officer for animal health and welfare at the Trading Standards Institute, said: 'I was particularly impressed by the compressive entries submitted by Wakefield and Hartlepool to deal with a growing problem of fly grazing and abandoned horses.
'Both entries are excellent examples of best practice which should be shared with other local authorities.'