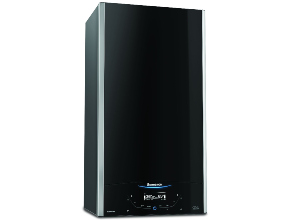 Ariston has strengthened its ONE Series range of high-performance gas condensing boilers with the introduction of two new flagship models: Alteas ONE Net and Genus ONE Net. Both boilers feature built-in Wi-Fi and digital timer programming, while they are also supplied with a 12-year manufacturer's warranty as standard.
The premium model is the Alteas ONE Net, which boasts a beautiful black finish and Ultrasafe glass panel, while the new line-up is completed by the Genus ONE Net. Both boilers are supplied with Ariston's Cube RF control, ready for connection to the Ariston Net smartphone app. Plus, using the boilers with the supplied controls also ensures they are 'A+' ErP rated for optimum energy efficiency.
As with previous models in Ariston's ONE Series range, the new boilers benefit from the patented stainless steel, continuous coil XtraTechTM heat exchanger, alongside low NOx ratings (from 33mg/kWh). In addition, all units are 'Boiler Plus' ready straight out of the box, thanks to a number of features including a built-in 'Internet Weather', 'Auto' and 'Comfort' functions.
For full flexibility, both Alteas ONE Net and Genus ONE Net have a combustion control system, allowing the boilers to operate from either mains gas or LPG.
Commenting on the new products, Alex Boweren, Product Manager at Ariston, said: "These new models demonstrate the strength and depth of Ariston's boiler range, with a host of new features introduced to further benefit end users and installers alike. By incorporating Wi-Fi technology as part of their design, both boilers comply with all necessary legislation out of the box – while ensuring end users have complete control of their heating for maximum levels of comfort."
Alteas ONE Net and Genus ONE Net are lightweight and simple to install, with easy access from the front to all components. There is also more room inside the casing to aid with commissioning, servicing and repair. Plus, operating at levels as low as 49dB ensures they remain among the quietest units Ariston has ever produced. All models feature a digital pressure gauge, touch buttons and sleek design, while providing high domestic hot water flow rates up to 14.1 litres/minute and delivering a 1:10 modulation ratio.
Ariston Thermo UK, which is part of the Ariston Thermo Group, is a manufacturer of domestic heating, hot water and renewable products. With over 20 years of experience in the UK, Ariston Thermo is a worldwide leading company in the heating and water heating industry.
For more details about Ariston, visit: www.ariston.co.uk or follow @AristonUK on Twitter.