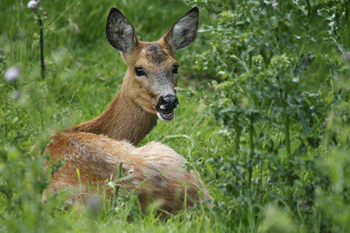 A petition urging a council not to shoot a 'lonely' deer named Oki has received over 134,000 signatures.
Wokingham Town Council will next month decide how to stop the creature from eating vegetables at a local allotment, with one option being to kill it with a gun.
However a petition set up by local resident Kate Jakubiszyn calling on the town hall to spare the beast from a bullet-ridden demise has now received 134,435 signatures.
Oki became embroiled in the spat after being separated from her herd.
Jakubiszyn – who also named Oki – said shooting the animal 'could set a dangerous precedent for future policy'.
Other options being considered by the council's amenities committee include trapping and relocating the animal or scaring it away.
Jakubiszyn wrote that killing Oki 'because she has been eating a few runner beans' was 'not acceptable'.
She pointed out that roe deer had been native to Britain since before 10,000 BC.